FORS Gold for Commercial Storage Ltd
12th August 2016
CSL are a family owned and run business with more than 40 years of experience in delivering transport, aggregates and storage solutions.  Conveniently based just off the M3 at Blackwater, their team of drivers and operations staff are dedicated to providing haulage services across the UK and into Europe.  With a second transport and storage base in Gloucester,they trade on our reputation for delivering an exceptional service every time.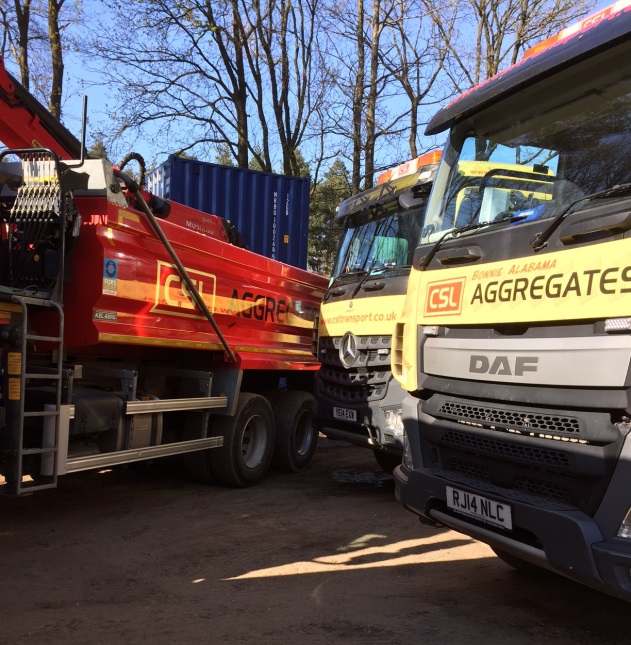 CSL's road haulage division has 16 rigid, hiab and artic trucks – a mixture of Renault, Scania and Volvo, and the aggregates division has seven tippers and grabs – mainly DAF.  Both sides of their business have significantly grown in the past four years, and to reflect their investment in the fleet, they are proud to have worked hard to ensure we achieve FORS Gold.
Driver education and customer satisfaction were the two main issues at the heart of their decision to join the FORS scheme, something we believe goes hand-in-hand to run a successful business.  They work extensively within London and on Crossrail sites, and have embraced the training and procedures required for FORS – after all, who doesn't want to run a fuel-efficient and compliant fleet of trucks?
The FORS workshop has ensured all their drivers remain updated about the latest procedures and best practice methods of driving/operating.  They are extremely committed to compliance, raising driver awareness of cyclist safety and reducing the amount of accidents/PCNs in the team.  Since September 2015, they have already seen a significant reduction in accidents which in turn means they are not claiming on our insurance and their premiums are for once, on the decline.
Through the FORS process CSL have made better use of our telematics system; driving behaviours have altered –they operate a traffic light system – and have moved their (low) percentage of 'red' drivers to amber and are ensuring they are proactively encouraged to continue improving until they join the majority of their drivers on green.  The telematics system provides CSL with comprehensive information on how our trucks are being driven – ie if they have accelerated too fast, braked too hard etc, and this allows them to educate the drivers into a more consistent and cost-effective approach.
In addition, they are replacing their current suite of forward and side-facing cameras with 360 degree cameras, giving them the best possible visibility on the roads/and incidents that may occur.  As-well-as creating a safe fleet of trucks, their H&S/compliance measures have added value to our business, as more customers recognise the importance in working with FORS accredited firms such as CSL Transport.
Rachel Pearson is our FORS specialist at Fuel Card Services – for more details on what we can offer FORS members – please click here.
back