Allstar One fuel card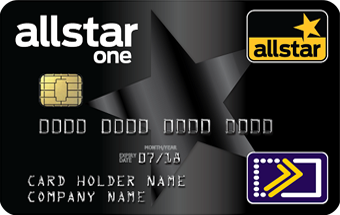 Allstar One fuel card – The ideal pump related price fuel card for car and LCV fleets needing the widest coverage, with access to over 7,600 sites, including 120 motorway sites across the UK.
You only want one fuel card – and this 'one' does it all. Not just for savings on fuel, but managing servicing, tolls, expenses and much, much more. And, with increased security with chip technology. Speak to us now about how to make the most of this card.
Why choose an Allstar One Fuel Card?
Service
Access to over 7,600 sites
All major oil brand and supermarket sites, including over 120 motorway sites
Dedicated account manager
To help you get the most out of your Allstar One fuel card account
Use Allstar One fuel card for additional services
Servicing, tolls and more – easy management of expenses
Collect loyalty points
Join any of the schemes available throughout the network
Savings
Spend less on diesel
Save 1p per litre by signing for the transaction at over 1,500 Premier sites
Save time and reduce wasted fuel
With over 7,600 sites*, no need for your drivers to detour
*Some sites carry a 2p per litre surcharge on top of pump price and a £1 network service fee
Help with cutting greenhouse gas emissions
Count, control and cut emissions with CO₂Count
Interest free credit and simple payment terms
No advance payment for fuel required, only pay for the fuel you use
Security
No unauthorised
purchases
Allstar fuel card use can be restricted to certain products and services
Chip Technology
Increases your fuel card security
Card Protect – Zero liability card protection
Notify us your card is lost and any liability or loss rests with us
What's unique about Allstar One fuel cards?
Quite simply, Allstar offers the widest coverage you'll find in the UK market. The network includes 100% of major fuel and supermarket brands, making it an obvious choice for larger fleets or fleets that have varied routes that change often.
Take note, however, the size of Allstar's network doesn't mean the fuel prices you'll get access to are anything less than competitive. With Allstar, you'll find yourself free from advance fuel payments and enjoying up to 10 pence per litre off at selected Discount Diesel sites. Finding your nearest applicable station is easy with our Pump Locator, and for additional help you can read our guide on where exactly you can use your Allstar card.
Save up to 10p per litre on fuel
Find the best fuel card for your business and start saving.