Fleet procurement: what to consider
Written by: Simon Pavey, Last updated:14th April 2023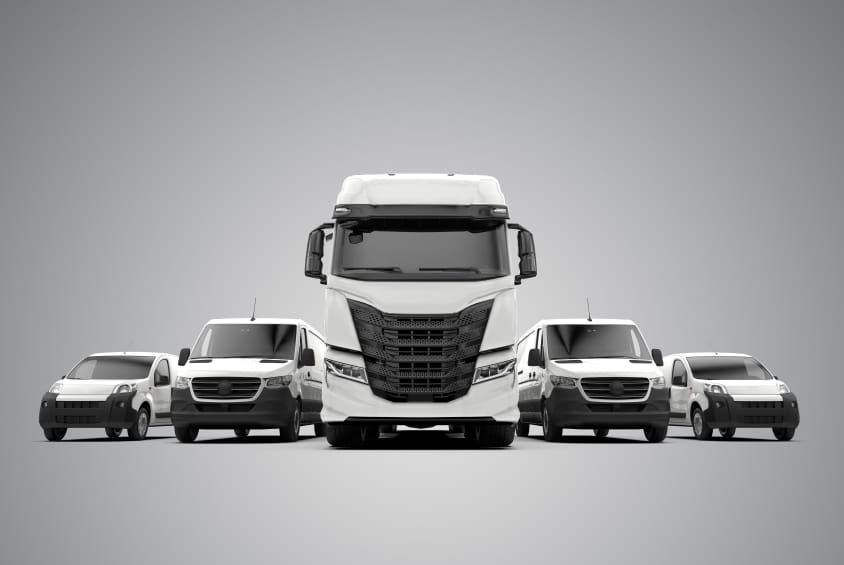 Procurement looks different for every business, and for fleets it means the acquisition of vehicles and all the other services and parts required for the appropriate, safe, and legal operation of a fleet. Fleet procurement is the groundwork of a strong fleet, and it can be hard to know how to strategise to ensure an effective fleet procurement process.
Essential considerations in fleet procurement
Before diving in and picking up the keys for fleet vehicles, fleet managers should take the time to thoroughly consider all aspects of the fleet procurement process and have a detailed plan of what the fleet needs, from the vehicle to its maintenance and running costs post-acquisition.
What is the purpose of the fleet vehicles?
The first and most obvious thing to consider is what exactly you are procuring fleet vehicles for. It's important that you understand the role that the vehicle/s will play in your business, for example are they company cars for staff travel, or are you acquiring fleet vehicles for last mile delivery purposes?
Another important thing to consider is how essential the fleet vehicles you will be procuring will be for your business. With the economic landscape businesses are operating regularly in a state of flux, so it is wise to consider whether fleet vehicles are the best investment for your business at this time.
What type of vehicle engine do you want/need?
Considering the type of journeys your fleet vehicles will be doing will make it easier to know what type of vehicle engine you want to choose.
Petrol vehicles are better for fleets taking more short journeys at lower speeds, making them a good choice for urban driving. Diesel is better suited to longer journeys though this fuel is more expensive. Hybrid and electric vehicles are more sustainable options and come with more tax savings though they might require infrastructure installation and offer lower mileage potential than combustion vehicles.
Common routes
Understanding the routes your fleet vehicles will be frequently traversing will guide your decision about what type of vehicle/s will be beneficial choices and what features would be useful too. Consider the types of roads, the common speed limits, access to garages and gas stations, whether the routes are rural or city-based, as these things will help you decide on the aforementioned engine types as well as other important features for the vehicles you procure.
Route planning is also essential to the efficiency of your fleet, so why not consider applying a route planning and optimising tool like My Transport Planner? This piece of pay-as-you-go software helps to organise fleet routes and ensure they are the most efficient routes available, helping to save on time, money and fuel.
Maximising fuel economy
For fleet procurement, fuel economy is one of the biggest factors that will determine the cost effectiveness of your fleet vehicles. Cutting costs is a priority for fleet managers, and keeping fuel economy in mind during fleet procurement is vital to cutting costs and increasing sustainability.
The fuel efficiency of different vehicle models is a great starting point when you begin consider what vehicles you might want to add to your fleet. Newer vehicles are more likely to benefit from features that increase fuel economy and efficient driving such as cruise control.
Driver tracking
While the vehicles that make up your fleet have a significant role to play in fuel economy, so do the individuals behind the wheel. Monitoring driver behaviour helps you to identify areas of improvement and where efficiency can be increased, as well as being a great tool to ensure safe operation of your fleet at all times. Consider what telematics and tracking services you might find beneficial to help increase fuel economy as well as driver safety as part of your fleet procurement plan.
Organising and managing maintenance and servicing
For fleet procurement, considering the upkeep of the vehicles you intend to add to your fleet is important for safety, legality and keeping costs down. It's important that upkeep of your fleet vehicles is affordable and practical, and one way to help ensure this is with fleet tools like MyService.Expert, MyDriveSafe and Fleet Check.
These pieces of software can help you to organise servicing and maintenance schedules and bookings, can support safety checks and help with the general management of your fleet vehicles. Not only can they help save you time and money by increasing the efficiency of these processes but tools like MyService.Expert offer access to great rates to help further cut costs.
Funding and Taxing
Choosing how to fund your fleet procurement is a big part of your procurement strategy and will depend on your company size and finances as well as the type of fleet you are growing. Whether you are leaning more towards purchasing or leasing your fleet vehicles you can read more about these two options in our financial management guide for fleet operators.
Taxing your fleet vehicles is also important to ensure your fleet operates legally. If you aren't familiar with company vehicle tax and fleet vehicle taxation you can read more in our company car tax guide. There are savings to be made when taxing electric vehicles which you can learn more about in our EV tax guide too.
Savings for your fleet with Fuel Card Services
With a thorough procurement strategy and having considered all necessary factors discussed here you can build a fleet that is curated to serve your business perfectly, and in the most cost effective manner possible.
Putting to use fleet software can help you to ensure the fleet you build runs smoothly and can help you to continue to save money and time, and the right fuel card or charge card can help you fuel your fleet and manage the admin with minimal hassle. Get in touch with our experts to learn more about the tools we offer to streamline your fleet management.
back