Electric charging points: a guide for UK businesses
Written by: Simon Pavey, Last updated:14th February 2023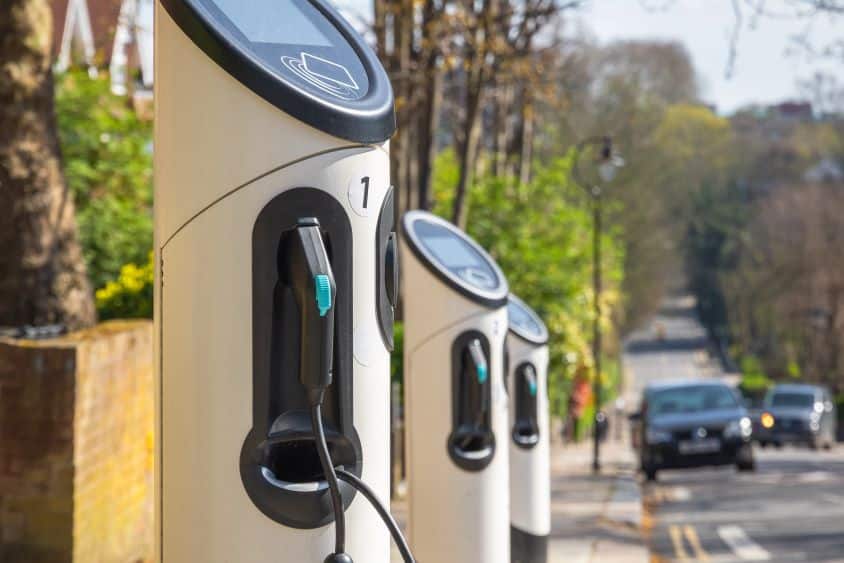 Amidst technological advancements, and growing pressure from consumers and the government to make steps to reduce climate change, the electric vehicle market has grown exceedingly fast and is showing no sign of slowing down. In 2030, there will even be a ban on new sales of petrol and diesel cars in the UK, meaning UK businesses of all shapes and sizes must prepare to make the shift to electric.
For commercial fleets in particular, electrification can bring about many advantages. For example, you can expect to pay £4 per 100 miles for an EV compared to £14 per 100 miles for the same-sized petrol or diesel car. With cheaper running costs, and a wealth of environmental benefits, it's no wonder businesses are placing a greater focus on EV technology.
However, it's a new area for many, and businesses are loaded with questions around infrastructure, costs, compatibility, and charging times. That's why we've created this guide to electric charging points, which should help you get up to speed. Read on to learn about:
Different types of chargers.
Electric vehicle charging stations.
How your business could benefit from having electric charging points installed.
Different types of EVs
Depending on the type of electric vehicle you own, the charging infrastructure and capabilities of your fleet will vary. The main types of electric vehicles include:
Battery Electric Vehicles (BEVs): These are the most common EVs, with over 462k cars estimated on UK roads. These cars are powered by a battery or motor so are charged from an external power source and have no emissions.
Plug-in Hybrid Electric Vehicles (PHEVs): These hybrid vehicles have a petrol or diesel engine as well as a battery that can be charged, which means that they can use either source of power to drive. There are an estimated ~384k PHEVs on UK roads.
Hybrid Electric Vehicles (HEVs): In comparison to the other two types of vehicles, this EV does not require to be plugged in to charge. Instead, the electric battery or motor is charged through regenerative braking. This is why these vehicles are sometimes described as 'self-charging hybrids' since they do not need to connect to an external power source.
Types of EV charging points
There are four distinct types of electric vehicle charging – slow, fast, rapid, and ultra-rapid. This charging is categorised into either direct current (DC) or alternating current (AC).
Slow: 3 kW-6 kW of slow charging that can take between 6-12 hours to fully charge your vehicle. This method of charging is most commonly found at home, where there isn't a time restriction for when you need your vehicle to be charged as this can be completed overnight.
Fast: Typically rated 7kW, taking 4-6 hours to charge, or 22kW, which takes 1-2 hours. These chargers are popular in car parks of shops, supermarkets, or offices, making them the most obvious choice for business owners.
Rapid: Rated 22-50kW, rapid chargers can refill an EV battery to 80% in around 40 minutes.
Ultra-rapid: Charging 80% of the car in 10-15 minutes, ultra-rapid chargers are often found at motorway service stations.
How far can an electric car go on one charge?
It's estimated that a fully charged electric vehicle can travel 100-300 miles before needing to be charged again. However, similar to a mobile phone, EV owners will often top up their charge rather than running it from full charge to nothing.
EV charging points in the UK
Over the past few years, there has been a significant increase in public electric vehicle charging stations. At the end of July 2022, there has been a recorded over 33,000 charging points across the UK according to Zap Map.
How much does it cost to charge an electric car?
The cost of charging your electric vehicle depends on which charging point you're using. Public electric charging points are usually free to use, as well as at businesses where employers install workplace chargers.
For rapid charging points, these usually require a fee at motorway services. Typically, this will cost £11 for a 30 minute, 90 mile charge. Read more about the cost of EV charging.
How do you pay for electric car charging?
The majority of EV charging stations will accept card payments. Some might require you to download an app to pay.
If you manage a fleet, you may be concerned about how to manage the costs of EV charging. It is still possible to use fuel cards to pay to charge electric vehicles. For example, the Shell EV Card can help you save 2p per kWh which you can access at over 7500 EV charging points across the UK. Not only this, with the same card you can access over 3,800 stations for traditional fuel too if you're operating a mixed fleet.
If you're concerned about transitioning your fleet to an electric, or semi-electric model, get in touch with our experts to learn more about how we can support you with the right charge cards and technology.
Do electric cars pay the congestion charge?
Another benefit of going electric is that all EVs are exempt from the London Congestion Charge and the Ultra-Low Emission Zone charge.
Government grants for electric car charging points
Having an EV charging point installed at your business is not only positive for the environment, but it's an additional perk for employees. For businesses with an EV fleet, it may be beneficial to invest in charging points to charge vehicles overnight before shifts begin in the morning.
The Workplace Charging Scheme offers a government funded grant which covers up to 75% of the costs of purchasing and installing an EV charge point. This is capped at £350 per socket for up to 40 sockets per applicant. All you need to do is complete the Workplace Charging Scheme application form and, if successful, you'll be issued a unique voucher to give to ChargePoint installers.
How to charge electric cars at home
For individuals who want to charge their electric vehicle at home, you can have an electric charging port installed at your property. As with workplaces, the government offers the £350 subsidy towards purchasing and installing through the EV ChargePoint grant at domestic properties.
The average cost for the EV charger itself as well as installation is £1,000, or £650 if successful for the government grant. 3kW chargers will be cheaper to install in comparison to 7kW chargers, so it's important to consider which is the best for you.
It could be a feasible model for some businesses to offset the cost of home EV charging for vehicles that are to conduct business mileage. Government funding to support the installation of charging infrastructure is still accessible in this instance, making it an option that's worth exploring for businesses.
How to manage EV charging as a UK business
It's clear that electric vehicles are here to stay and will eventually become the norm as petrol and diesel cars cease to be made after 2030. As a result, it's time to consider how EVs can be managed by your business through electric fuel cards.
To find out more about electrifying a commercial fleet, you can visit our Electric Vehicle Hub, which will be updated as more EV charging services become available. If you'd like further advice on how Fuel Card Services could help you manage your electrical fleet, get in touch with our expert team today.
back