An intro to the Workplace Charging Scheme
Written by: Simon Pavey, Last updated:13th February 2023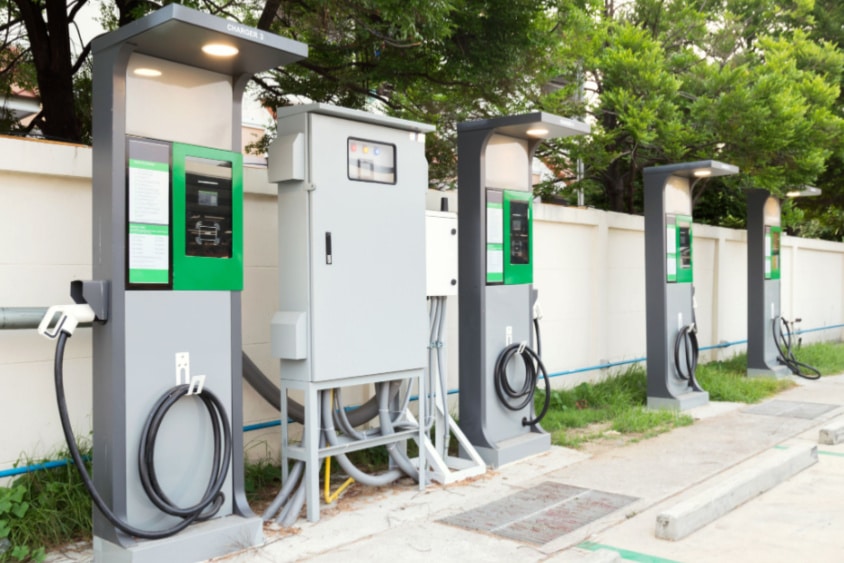 Electric vehicles are becoming increasingly popular, and with a larger number of electric vehicles taking us from A to B and delivering goods comes a need for updated infrastructure and resources, particularly electric vehicle charge points.
This can be costly for businesses, which is where the Workplace Charging Scheme (WCS) can help. Offering support with the cost of installing EV charge points in businesses, charities, public authorities, and small accommodation businesses, the Workplace Charging Scheme is helping people and businesses afford sustainable change and development.
In this article, we will talk you through the ins and outs of the Workplace Charging Scheme – from who can use it, how much you might receive from the scheme and how to qualify for the scheme.
What is the Workplace Charging Scheme?
The Workplace Charging Scheme is a UK government scheme offered by the Office for Zero Emission Vehicles (OZEV) to support businesses with the introduction and installation of electric charge points. The aim of this is to encourage the switch from traditional fuel cars to electric vehicles by making it increasingly convenient for EV drivers to charge their vehicles.
Helping to make charge points more readily available for private EVs parked at work as well as company fleet EVs, the WCS can reduce the purchasing and installation costs of new workplace charging points by as much as 75%.
Max £350 per socket,
One business can claim for up to 40 sockets (40 single socket charge points, 20 double socket charge points),
WCS can be claimed only for charge points installed after the issue of the voucher.
Who can use the Workplace Charging Scheme?
Whilst the Workplace Charging Scheme is available to any business, public authority, small accommodation business, or charity but there are some conditions that must be met.
To qualify for the WCS, you must:
Have sufficient off-street parking available for staff and fleet use, which is either on-site or in reasonable distance of the business premises.
Express a future or existing need for the businesses/be encouraging the uptake of EVs by your staff, even if you don't currently have EVs in your fleet.
Have the charging stations installed by an OZEV approved WCS installer.
Small accommodation businesses are a recent addition to the WCS. They are defined as hotels, holiday and short-stay accommodation, camp sites, trailer parks and recreational vehicle parks.
How to apply for the scheme
To receive a Workplace Charging Scheme grant for your business, you must first fill out the online application form, which will ask you to declare any support you have received from public sources given under de minimis state aid regulations. You will also have to agree to the terms and conditions of the scheme.
Following your completion of the application form, you will receive a decision from the WCS administrator within five working days. You may require further checks, in which case you will have your place in the queue reserved whilst these are carried out.
If you are successful, you will receive unique voucher codes which you can then use to get started on the installation of charge points for your business. If you are unsuccessful, you will receive feedback on the issue that led to this decision, and you may appeal.
If you have received your voucher codes, you must ensure that you have your installation carried out by OLEV-authorised suppliers/installers and claim within the expiration period of the vouchers, which is 6 months from the date of issue.
Following the installation of your EV charge points, there are a number of checks that the DVLA will carry out to ensure that all details are accurate, and all expectations have been met. Once this has been carried out and confirmed, you pay the installer who will receive the additional grant money promised by the vouchers within 30 days.
To find the application form and for more insight into the recommended checks to undergo before applying for the WCS, you can visit GOV.UK 
EV Charge Cards for when you're away from base
You can't always guarantee that you fleet will be back on home turf when the need to recharge arises. If you want to control costs when your fleet is recharging away from home, then EV charge cards could be the perfect option for your fleet.
Designed to work in the same way as traditional fuel cards, EV charge cards will allow you to manage fleet spending on electricity and reduce admin costs and time spent on expenses reclaims for your drivers. With a range of benefits available, including discounts on regular fuel (perfect for hybrid fleets), EV fuel cards could be the solution for charging way from base.
At Fuel Card Services, we offer customers the Shell EV Charge Card, which lets users pay for charging and traditional fuel with a single payment solution.
If you aren't sure which EV charge card is right for you or you want to compare fuel cards, you can use our handy comparison tool, or get in touch with our team to discuss your options.
back