My Fleet Hub: Our online fleet management portal
Written by: Simon Pavey, Last updated:9th February 2022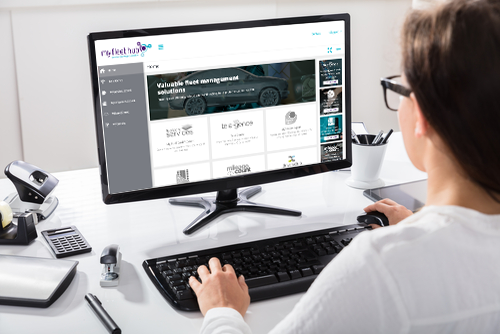 Whether you have an entire fleet or a handful of vehicles, managing costs, compliance, maintenance, emission control, duty of care, and admin can be challenging and time consuming.
Fleet managers and drivers today face a growing number of issues from rising fuel and maintenance prices to overwhelming regulations, duty of care, and paperwork. With Fuel Card Services, however, you can manage everything fleet all under one roof.
What is My Fleet Hub?
My Fleet Hub is our fleet management portal that allows you to manage your fuel cards 24/7, part of our range of additional fleet products. In addition, My Fleet Hub gives you access to manage our range of fleet maintenance services, including vehicle tracking, mileage counting, fleet servicing and repairs, and vehicle checks.

The one-stop solution for all your vehicles
As mentioned above, My Fleet Hub encompasses every aspect of fleet management. With access to an indispensable range of integrated services, each product is developed to make each vehicle simpler, safer, and cost effective to manage and use.
Below, we have listed what products are available on My Fleet Hub and how they can be beneficial to your business.
Control fuel card costs
From individual pump discounts to weekly fixed pricing, we save thousands for businesses every day. Moreover, we don't incur transaction charges on our fixed price fuel cards. So, here are some of the tools you can use to help manage your fuel cards:
Manage cards
On My Fleet Hub, you can manage all of your fuel cards from any supplier.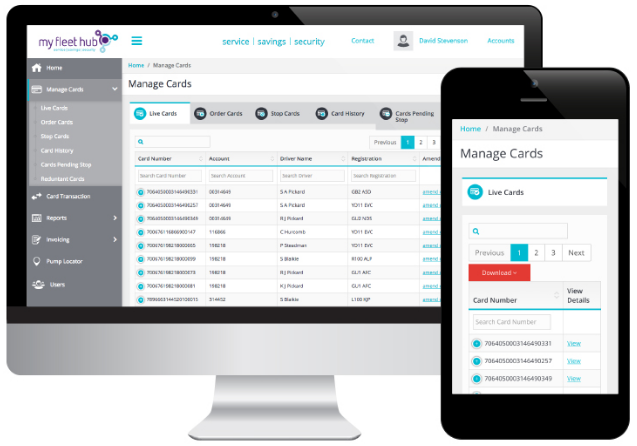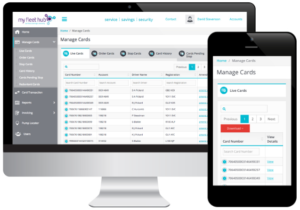 Card transactions
Also, you can view up to 2 years of card transactions, which are downloadable by individual or card.
Reports
Detailed reporting is available on fuel purchases and anomalies, as well as automated drawing reports.
Invoicing
Furthermore, you can view and download up to six years of stored invoices and statements on the portal.
Pump locator
Lastly, on My Fleet Hub you can find a driver's nearest refuelling point and avoid unnecessary detour and costs.
Save miles with Tele-Gence
Tele-Gence is a telematics platform that delivers intelligent fuel management by integrating fuel card and live tracking data. Therefore, it offers in-depth reporting in pump pricing, driver behaviour, fuel fraud, vehicle tracking, and more.
In addition, our telematics platform is on accessible on My Fleet Hub, and takes seconds to log on.
Save vehicle maintenance costs with MyService.Expert
Keeping on top of servicing and repairing for one vehicle can be hassle alone. Multiply that to several vehicles in a commercial fleet and it can become a lot to manage.
MyService.Expert gives drivers and managers easy access to a network of garages that offers competitive savings on vehicle servicing, maintenance, repairs, and MOTs.
On My Fleet Hub, you can view all maintenance invoices, monthly reports, and vehicle service histories. All costs are approved online through our portal using a secure online system for added protection.
Reduce mileage expense claims with MileageCount
Tracking mileage can be daunting. Accounting for each journey takes time, can be inaccurate, and risks non-compliance with HMRC.
MileageCount tracks every mile of every journey in any vehicle accurately, reliably, and effortlessly. Integrated software makes mileage expense claims easy to submit, and you can view everything on My Fleet Hub.
Get peace of mind with MyDriveSafe.Expert
Carrying out daily checks to ensure vehicles are safe is the duty of every driver, and the responsibility of ever manager. It couldn't be any easier with the MyDriveSafe.Expert app.
MyDriveSafe.Expert gives drivers a simple, comprehensive range of checklists, covering almost all vehicles and compliance with constantly-updated safety standards – all from a free app. In addition, it gives fleet managers the ability to track checks easily from anywhere.
Also, for £1 per driver per week for access to the portal online, MyDriveSafe.Expert helps speed up administration, record the time taken to perform checks, create incident reports, and produces a clear audit trail.
What next?
To conclude, My Fleet Hub is our answer to help businesses fleet management seamlessly with every tool in one platform.
So, if you are interested in any of our products mentioned, get in touch with our team of experts.
back