A Guide to Congestion Charges
Written by: Simon Pavey, Last updated:10th November 2021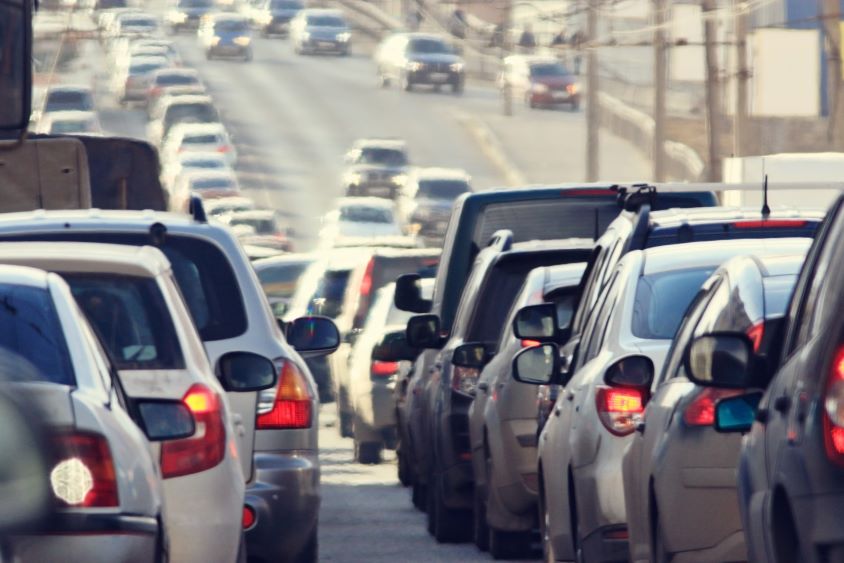 The first congestion charge was introduced to London in 2003 by its first mayor, Ken Livingstone. It sought to charge drivers within a designated zone at a fixed daily rate for using the busy London streets between 7am and 6pm.
Since then, various UK cities have begun introducing congestion zones of their own, using the existing London model as a blueprint. For businesses operating within these zones, having a full understanding of what charges are likely to be incurred could be crucial to saving costs and making routes more efficient.
What's more, congested traffic can prove to be a hindrance for fleets, even before additional charges are considered – as the time taken to complete journeys lengthens for each affected driver.
In this article, we'll explain congestion charges using London as an example, before exploring the types of exemptions that may benefit of commercial fleet operators. We'll also look at congestion more broadly, and suggest how commercial fleets could combat it.
What is a congestion charge?
When introduced, the congestion charge in London stood at around £5 per vehicle. It has increased considerably over the years to £15 in 2021, and is always visible on the Transport for London website.
The charge applies to any vehicle driving in the congestion zone between designed hours, which have also changed with time. As of 2021, the charge applies to drivers operating between 07:00-22:00 on any day – except from Christmas day.
The zone itself covers 3.8 million people. Naturally, many businesses operate in this area for a range of different purposes – from delivering commercial goods to local sellers, to providing food delivery and taxi services to residents – so this cost shouldn't be taken lightly by fleet operators.
Congestion charges for fleets
If operators of commercial fleets plan to have their drivers operate within the congestion zone, one tip from us would be to consider exploring advance payments. That's because failing to pay the congestion charge on the day it's due can result in the daily fee increasing to £17.50; a slight increase that could have a significant impact for an SME that has many vehicles operating in the area.
Automatic payment options are available via the TfL website which could prove helpful, and there's even an app that enables drivers to pay conveniently. Read more around payment.
Not all drivers have to pay the congestion charges, however. Let's take a look at which exemptions apply.
Congestion charge exemptions
If you're asking yourself 'do I need to pay congestion charge?' – or at least whether your drivers do, first read this list of exemptions, which apply if the vehicle in question is recorded at the DVLA as falling into one of the following categories:
Two-wheeled motorbikes, sidecars, and mopeds. Particularly for last mile deliveries, commercial fleets may choose to use these vehicles within the congestion zone without running the risk of incurring additional daily charges.
Taxis licensed by the London Taxi and Private Hire (TPH). Fleet operators that are actively registered with this taxi body are exempt from congestion charges, however this does not apply to private hire vehicles – although some may qualify for congestion charge discounts.
Fleet News reported that recent changes to congestion zone restrictions could cost commercial fleets up to £54m, and so first checking for exemptions, then calculating how the congestion charges impact the cost of your routes seems a sensible place to start for fleet managers. More broadly speaking, it's also important to consider the impact congestion could have upon your delivery times – and the knock-on costs this may result in.
Why is congestion so costly to businesses?
Obviously, the more time your drivers spend on the road, the more productive your business will be. However, what happens to the productivity of your fleet when your drivers are stuck in congestion?
Unfortunately, the average delivery driver for example spends up to 16% of their drive time sat in congestion. Assuming your drivers are on the road for 8 hours a day, they'll spend an entire 37 days a year sat in traffic. Your business is paying the drivers, but their productivity is being stunted by congestion.
With fuel costs rising steadily over the last few months, you want to make sure every penny of fuel is being utilised to its maximum potential. Sending drivers out on deliveries for them to be sat in traffic for almost a fifth of their entire day certainly isn't making the most of your fuel.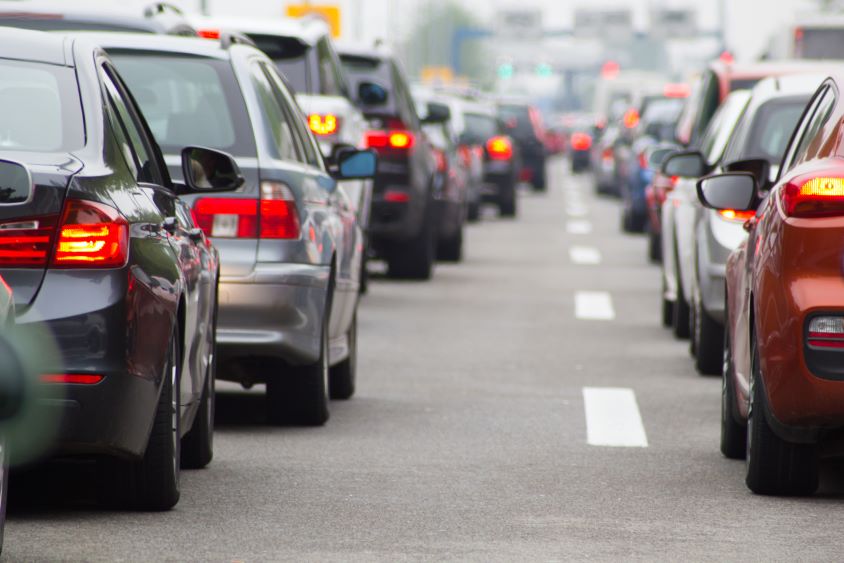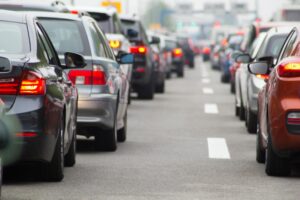 What can be done to combat congestion?
The most obvious solution to avoid the worst congestion in the UK is to examine your route. Is there an alternative way your drivers could be going? A route that takes you around the edge of a city, for example, would of course take longer in terms of mileage, but would it actually save time by avoiding the heavy congestion? After all, you'll burn more fuel stopping and starting your vehicle than moving continuously at a steady speed.
If you are caught in traffic, remember that gentle acceleration in the highest safe gear will keep your fuel consumption low – and it may be wise to remind your drivers of simple tips like these that can promote good fuel-economy.
Unfortunately, there sometimes isn't too much you can do to avoid heavy traffic jams. If your route requires that you drive through an area prone to heavy congestion, could your route be driven at a different time? Driving outside of rush hour will of course reduce your chances of getting caught in heavy traffic.
Additionally, consider whether you could remove any unnecessary weight from your vehicle. The heavier your vehicle, the more fuel you will burn when stopping and starting in traffic. Remember that more fuel will be burned if you are using your car's other systems such as air conditioning or heating. If you get stuck in traffic, open a window instead.
As a fleet manager, it's wise to ensure your drivers are aware of these tips. They may also have handy tips of their own that you could share around by opening up an internal discussion on handling congestion.
Which UK cities have the worst congestion?
The amount of congestion that a city experiences is measured in a percentage. For example, if a journey should take 10 minutes (judging by the distance and speed limits) but the city in question has a congestion level of 50%, the journey is more likely to take 15 minutes to complete.
The five most congested cities in the UK are:
Edinburgh – 41%
(Global rank – 33)
London – 38%
(Global rank – 45)
Brighton & Hove – 35%
(Global rank – 63)
Bournemouth – 34%
(Global rank – 69)
Hull – 34%
(Global rank – 73)
Belfast, Southampton, Bristol, Manchester and Reading are also not far behind with congestion levels between 32% – 33%.
Hull, Brighton and Bournemouth being so high is particularly interesting. None of them are within the top 15 largest UK cities by population. London and Edinburgh being the two most congested cities is not so surprising on the other hand, since they are both capital cities of their respective countries.
How can Fuel Card Services help?
At Fuel Card Services, we specialise in helping businesses save money on their fuel costs. With a fuel card from our range of branded cards, you could be making a real impact to your bottom line for every mile driven by your team.
Additionally, it's important that you're able to properly track your driver's routes, and plan routes efficiently. Our Tele-Gence technology can be used to empower your drivers with this information. Live traffic updates can notify them of long traffic queues, enabling them to steer clear, and you'll be given updates on their driving habits to understand whether they're burning unnecessary fuel.
Tele-Gence also syncs seamlessly with your fuel card account, making them the perfect pairing for keeping your fuel costs and consumption as low as possible. Get in touch today and see how we could help you.
back