The fuelish costs of traffic jams
Written by: Abaranji Sivakumar, Last updated:11th August 2020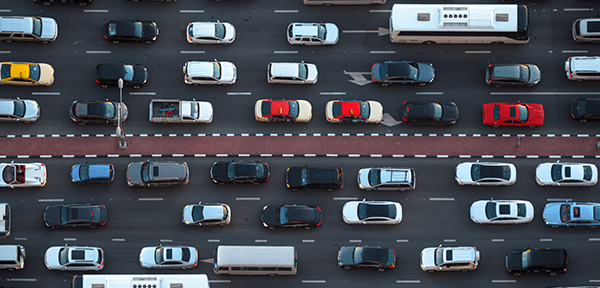 Unsurprisingly, the top annoyance for the UK motorist is a traffic jam. This finding was part of IAM RoadSmart's Safety Culture Survey, which was published on Thursday last week.
It is the fourth year, that the UK's biggest road safety charity, asked more than 2,000 drivers about their worries, fears and attitudes. In the past, two years safety concerns around other drivers using hand-held mobile phones topped the list – but now traffic congestion is the top concern.
Congestion costs money
Congestion becomes a very real worry when looking at the road usage landscape from a business perspective. Hire car organisation, Europcar launched a new white paper, exploring the mobility challenges facing UK business. In Charting a Safe Path Through the Minefield of Challenges Facing UK Businesses, the paper reveals a mood of caution and mild pessimism amongst UK businesses.
Europcar conducted the research in response to the increasing challenges facing businesses and decision makers when it comes to keeping workers on the road and productive. More than half of the 500 businesses surveyed by Europcar said they generate their revenue through monthly contracts, so unsurprisingly, economic growth and cash flow were found to be the top two concerns for this sample of firms.
Congestion affects business
With Christmas coming, and the delivery of online retailing after Black Friday increasing, this will mean our roads are about to get even busier. Congestion becomes a critical business issue according to research from the Mercedes-Benz Vans Business Barometer survey.
Delivery drivers say that, on average, 16% of their working day is lost due to congestion, which means, based on a (very conservative) 8 hour working day this equates to 1 hour 17 minutes a day, or more than 6 hours across a typical working week, adding up to 37 working days a year lost due to congestion for the average delivery driver.
Greater London reaffirms its place at the top of the 'congestion league', with respondents saying 18% of their working day is lost to congestion – higher than anywhere else in the UK.
The research, undertaken amongst 2,000 van owners and operators, also highlights that congestion is now the second biggest 'barrier to growth', with 31% believing this will be a barrier to growth in the coming year, rising to 38% amongst fleet managers, and second only to rising fuel costs (57%).
Commenting upon their survey, Steve Bridge, Managing Director, Mercedes-Benz Vans UK Ltd, said: "We know from our Business Barometer that a growing customer base ever more focused on online retail is a positive for the industry, but unless the issue of congestion is tackled, these businesses will suffer. Congestion causes delays that cost money as well as time and can damage the reputation of business that rely on their deliveries."
Dealing with congestion
IAM RoadSmart's head of driving and riding standards, Richard Gladman, is all about how you can save fuel. Here he provides some top congestion-driving tips.
Try to keep your driving smooth. Gentle acceleration and using the highest safe gear will use less fuel. Ease off the accelerator early for traffic lights if they are red – why hurry up to wait?
If possible, try to avoid driving during heavy traffic. Stopping and starting in traffic needs the use of the first gear and a lot fuel is used to get the vehicle moving again
Keep your tyres well maintained by checking the condition, pressures and tread depth. When it comes to choosing new tyres, it's worth having a look at ones which are designed for extra economy
Get rid of unnecessary weight. Cars work just like the human body, it needs more energy to move around more weight and so does your car. Take heavy items out of the car if you don't need to carry them. A roof rack or roof box will increase drag and you will use more fuel to overcome this, so remove it if it is not being used
Nowadays, you don't need to manually warm up a modern car, so once your windows are clear (a bit of elbow grease will sort them out) you are able to set off to your destination without having to wait around
During this winter season as your engine is trying to warm up it uses more fuel for the first four miles or so.Your engine stays cold when you drive less than two miles and your car will produce 60 per cent more pollution than a warm engine – avoid these short journeys where possible
Turn off the air-conditioning as it uses extra fuel. When the rear window is cleared turn off the rear screen heater – the more electricity your car has to produce, the more fuel it will use
Keep your speed low as you can reduce fuel consumption by up to 25%. Try pressing more lightly on the accelerator, often you can maintain the same speed with less pressure on the pedal
For the moment, whilst the government navigates through its own Brexit congestion, road users and business will have to await any further constructive news about a future without traffic jams on our roads.
At My Fleet Solutions, we understand that managing a commercial fleet is more challenging than ever. We offer the very best for fleets when it comes to vehicle servicing, maintenance and repairs, on all makes and models. My Fleet Solutions can take the sting out of automotive costs, with 60% typically saved on SMR compared to franchise dealers. The costings are transparent, based upon thorough working knowledge and up-to-date automotive data, plus all genuine parts and repairs are protected under warranty.
Visit www.myfleetsolutions.co.uk.
The post The fuelish costs of traffic jams appeared first on FCS Media.
back