Why your car has to have a yearly MOT, what's checked on an MOT?
Written by: Simon Pavey, Last updated:14th February 2023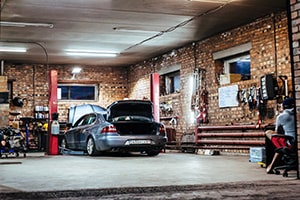 An MOT is essential for every car that is more than three years old in the UK. It's a document which states the road worthiness of your vehicle and you can get into considerable hot water if you're driving without one.
Every year, millions of vehicles are assessed in this manner, with many cars passing but a significant proportion seeing potentially dangerous issues flagged. Knowing what an MOT involves is therefore crucial if you want to ensure your vehicles are fit to face the rigours of the open road.
What does an MOT cover?
You can book an MOT at any one of thousands of registered MOT providers up and down the country, with the MOT itself usually taking no more than an hour to complete.
Here's a comprehensive breakdown of the different elements that will be specifically examined during an MOT:
Horn: Must emit a continuous uniform note that is loud enough to be heard by other road users.
Battery: Must be secure and show no signs of leaking.
Wiring: Should be secure and undamaged throughout, with no risk of causing a short circuit or becoming detached.
Towbar: Mountings must be secure and the bar itself must be in usable condition. All electrical connections must be working.
Steering: Steering is assessed for strength, wear and tear and accuracy of moving the wheels. Vehicles with power steering will be tested to ensure their power steering fluid is sufficient within the reservoir. Steering lock is also checked.
Suspension: Suspension components and shock absorbers are examined for signs of excessive wear and tear, corrosion, distortion or fractures.
Brakes: Brake pads, pedals and levers must be in good condition, while all warning lights must work effectively. A brake efficiency test will be carried out, while ABS and ESC systems are also checked.
Tyres/wheels: Tyre tread depth must be above the legal limit of 1.6mm and tyres must not have excessive wear and tear, lumps, rips or exposure of the inner cord. Wheels must be in a general good condition.
Seat belts: Each seat belt is checked for condition (including attachments and fittings) and that it will restrain the occupant in the event of a sudden stop.
Bodywork: A general inspection of body panels, chassis, engine, mountings, seats, bonnet, boot and doors for areas of excessive corrosion/sharp edges is carried out.
Registration plates: Must be clear and legible up to 20 metres from the car and in line with DVLA requirements.
Exhaust: Must be secure and have no holes. If a catalytic converter is required, this must be present and functional.
Fuel system: Will check for leaks throughout the system. Fuel cap must close securely.
Emissions: A gas analyser probe will be used to be used to test smoke emitted from the exhaust. Emissions of carbon monoxide and hydrocarbons must fall within the legal limit.
Mirrors and wipers: Wiper blades must be tear-free and in good condition. Mirrors are examined for cracks/damage that could obscure vision of the driver.
Windscreen: Must be no damage or obstructions directly in front of the driver's seat of more than 10mm. Outside this area, must be no damage or obstructions greater than 40mm.
Speedometer: Must be fitted correctly, accurate and must be illuminated.
Seats/doors: Must be fitted securely. Doors should close seamlessly and seats must be fully adjustable.
Boot/tailgate: Must close securely.
Lights: Must be correctly positioned, in full working order, not obscured, show the correct colour and not be adversely affected by the operation of other electrical equipment.
Bonnet: Must latch securely when closed.
What isn't checked on your vehicle's MOT?
It's important to understand that while an MOT is a comprehensive check on the road worthiness of a vehicle, it does not cover every aspect of the car.
Mechanics will not examine the engine, clutch and gearbox of a vehicle when carrying out an MOT. So, if you're having difficulties or faults with any of these systems they will not be flagged.
Keeping up regular maintenance and ensuring you pay close attention to the general working of your car is therefore highly important.
At MyService.Expert, we offer competitive savings on all vehicle servicing, maintenance, repairs and MOTs for our customers. We can help to save fleets up to 30 per cent on the cost of all parts and labour, helping to take the hassle and expense out essential vehicle upkeep.
Visit My Fleet Hub for additional services information.
back