Weather warning and driving tips issued amid downpours
Written by: Fuel Card Services, Last updated:2nd September 2021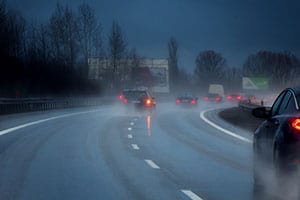 Autumn has officially announced itself, with the Met Office forced to issue a yellow weather warning for rain as the remnants of a storm batter parts of the UK.
Drivers, in particular, have been urged to take extra care on their journeys today (September 24th 2019), with the potential for standing floodwater and even a risk to life set to remain until 23:00.
Treacherous conditions on the roads
Heavy downpours, gusty winds and thunderstorms could make conditions on the roads especially treacherous during rush hour, which is when many fleet drivers are likely to be commuting home.
Although this weather front that comes from what remains of the Bermuda Hurricane Humberto will eventually die away, it is likely to be followed by another band of wind and rain for the coming days.
Offering advice for motorists unable to avoid going out in inclement weather, IAM RoadSmart's Richard Gladman said the most important thing to do is keep a braking distance of at least four seconds between yourself and the vehicle in front, as this should allow time to stop in the event of an emergency.
He also recommended:
"Take extra care and if possible, avoid driving through standing water. If you're in any doubt about the depth or surface underneath a flood, then it's best not to take any chances," Mr Gladman concluded.
Ellie Baker, brand manager at Fuel Card Services, comments: "We wholeheartedly agree with this advice and urge everyone to be especially careful during this period of poor weather. While many of our drivers may not be able to avoid being on the roads, they can take as many measures as they can to keep themselves safe."
back