How to check and install wiper blades
Written by: Simon Pavey, Last updated:1st March 2022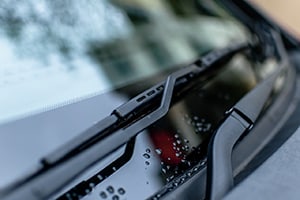 Winter is here and that means darker evenings, colder temperatures and plenty of wind and rain. As a result, windscreen wipers can take a battering at this time of year.
You should never underestimate the importance of being able to keep your field of vision clear and unobscured when driving, so taking the time to understand how to maintain and change your wiper blades when needed is something every motorist should do.
Why are the wipers such crucial equipment?
Being able to see clearly at all times is obviously essential for safety when travelling on the open road and windscreen wipers serve to remove debris and clear water that might otherwise inhibit the driver's vision.
Common issues that might highlight a vehicle is in need of replacement wiper blades include smearing or streaking when clearing the windscreen that may indicate rips or tears in the material, as well as squeaking or skipping as the blades move back and forth.
It's also important to remember that as wiper blades are made from rubber, freezing temperatures can cause the rubber to harden and this too can have an adverse impact on their ability to function correctly.
You should carry out a simple inspection on your vehicle's wipers (both front and back) before embarking on any journey. It takes just a few seconds to lift the blades and examine them for signs of excessive wear and tear, but you might be surprised at just how often this simple step is overlooked.
How to change your vehicle's wipers with ease
In the most part, changing a set of wiper blades is an easy undertaking. Indeed, it's something that every driver should be able to carry out.
The first thing to do is to lift the arm of the wiper into its vertical position, then turn the blade perpendicular to the arm and locate the release tab.
Next, turn the blade parallel to the arm and apply gentle pressure to release the wiper blade. Repeat this process in reverse to attach the new blade.
This is the process for the vast majority of vehicles. However, if your car has a unique setup for its wiper blades, refer to your vehicle's manual or visit the website of the manufacturer for more information.
We understand that vehicle maintenance can be costly and time-consuming, but at MyService.Expert we offer a solution to help keep your cars in tip-top condition with a minimum of fuss and expense.
Our service offers up to a 30 per cent discount on parts and labour for all our customers. We also offer regular maintenance reminders for vehicles you have covered, while you can make use of the facilities at thousands of garages across our national network.
back