The power of 10 – FORS celebrates milestone birthday
Written by: Fuel Card Services, Last updated:13th February 2023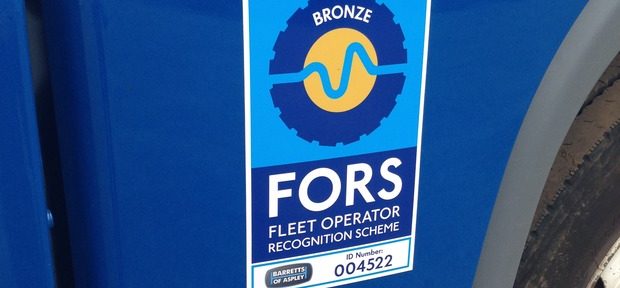 FORS, the Fleet Operator Recognition Scheme, is this year celebrating its 10th anniversary. In just one decade, FORS has grown from a small, yet highly motivated, collective of best practice-minded operators joining a new scheme created by Transport for London (TfL), to become a nationwide scheme boasting a 5,000-strong membership and representing the full spectrum of the transport operating industry.
FORS is now recognised as the go-to best practice accreditation scheme in the transport sector, with a mandate to promote safety, efficiency and environmental protection. Its members include commercial vehicle operators of any size and make-up, with vehicles from cars, vans and light commercial vehicles, to heavy goods vehicles. Members can access a comprehensive package of funded training delivered through the FORS Professional training portfolio.
FORS Director, John Hix, believes it is this progressive nature which has kept FORS relevant in an ever-changing industry. "When FORS began," he says, "it was clear there was a lot more operators could do to make the roads safer and to make their fleets more efficient. Without a doubt, great strides have been made since then, with far more awareness of safety, up-skilling of drivers, and fleets operating far more efficiently. However," he adds, "new technology, busier cities, and the increasing complexities of compliance means standards are always rising and there is always more we can do.
"Best practice is not a static one-off achievement, and neither is FORS – it is about embedding a cultural change, to encourage operators to always do more. We now have in place a robust accreditation scheme and we're extremely proud that, 10 years on, our members continue to raise standards for their operations and the wider industry."
FORS officially launched at the CV Show in 2008 and published the FORS Standard; the first edition of the comprehensive reference source which defines the requirements that members must meet in order to achieve the three, progressive levels of accreditation: FORS Bronze, Silver and Gold. It wasn't long before FORS recognised it had at its disposal a much wider remit within the transport sector and, with growing interest from operators and specifiers from across the UK, the scheme rapidly expanded well beyond the confines of the M25.
Steve Agg, chair of the FORS Governance Standards and Advisory Group (GSAG) which oversees the FORS Standard, and former Chief Executive of the Chartered Institute of Logistics and Transport, said, "FORS started from scratch, specific to London and specific to freight, and now it is a scheme available to any commercial vehicle operator, across the UK and beyond. FORS has provided a tangible means for companies in the transport sector to demonstrate that they want to drive-up standards."
Graham Bellman, Group Fleet Director at the Travis Perkins group, and GSAG member, said, "FORS single biggest achievement is putting transport distribution and supply chain on the map, moving us to an industry with a professional image and a national standard, helping not only us as operators but also our suppliers."
Gordon Sutherland, GSAG member and Road Transport Logistics manager for FORS Champion Thames Tideway, said, "The tangible benefits of FORS are that companies are seeing less penalty charge notices and less incidents. The drivers are more confident with less staff turnover as a result, and that is a huge achievement in itself."
Garry Lewis, Transport Standards Manager at Tarmac, and a member of GSAG said, "FORS shows that legal compliance isn't good enough in today's world, it needs to be about bringing in best practice. FORS has become the leading Standard for road transport safety and environmental issues, taking us past legal compliance to help drive us forward."
The power of 10 – FORS milestones
1. 2008 FORS launches at the CV Show, publishing its Bronze Standard
2. In 2011 FORS launched its FORS Practitioner qualification, awarded upon completion of a series of 10 workshops, designed to assist operators in day to day best practice, and it also launched Safer Urban Driving course, putting drivers on cycles to highlight challenges faced by vulnerable road users
3. FORS has grown into a truly national scheme with a staggering 82% of members – that's 4,051 companies – based outside London
4. FORS is now international, with active members in 17 countries, including the UK
5. The FORS Professional training programme has thus far trained over 180,000 managers and drivers via its eLearning and classroom-based courses
6. There are now over 1,000 FORS Silver accredited members
7. More than 250 companies are accredited as FORS Gold
8. Over 1,000 qualified FORS Practitioners
9. FORS first ten accredited members are still active today, and include Hanson UK, Trad Scaffolding Company, Martek Contracts, TfL (Tube Lines), Headlam, PHS Group, Bywaters, Bedfords Transport, West Horsley Dairy, and Lawsons Ltd
10. Over 5,000 accredited operators, representing nearly 10,000 operating centres and over 110,000 vehicles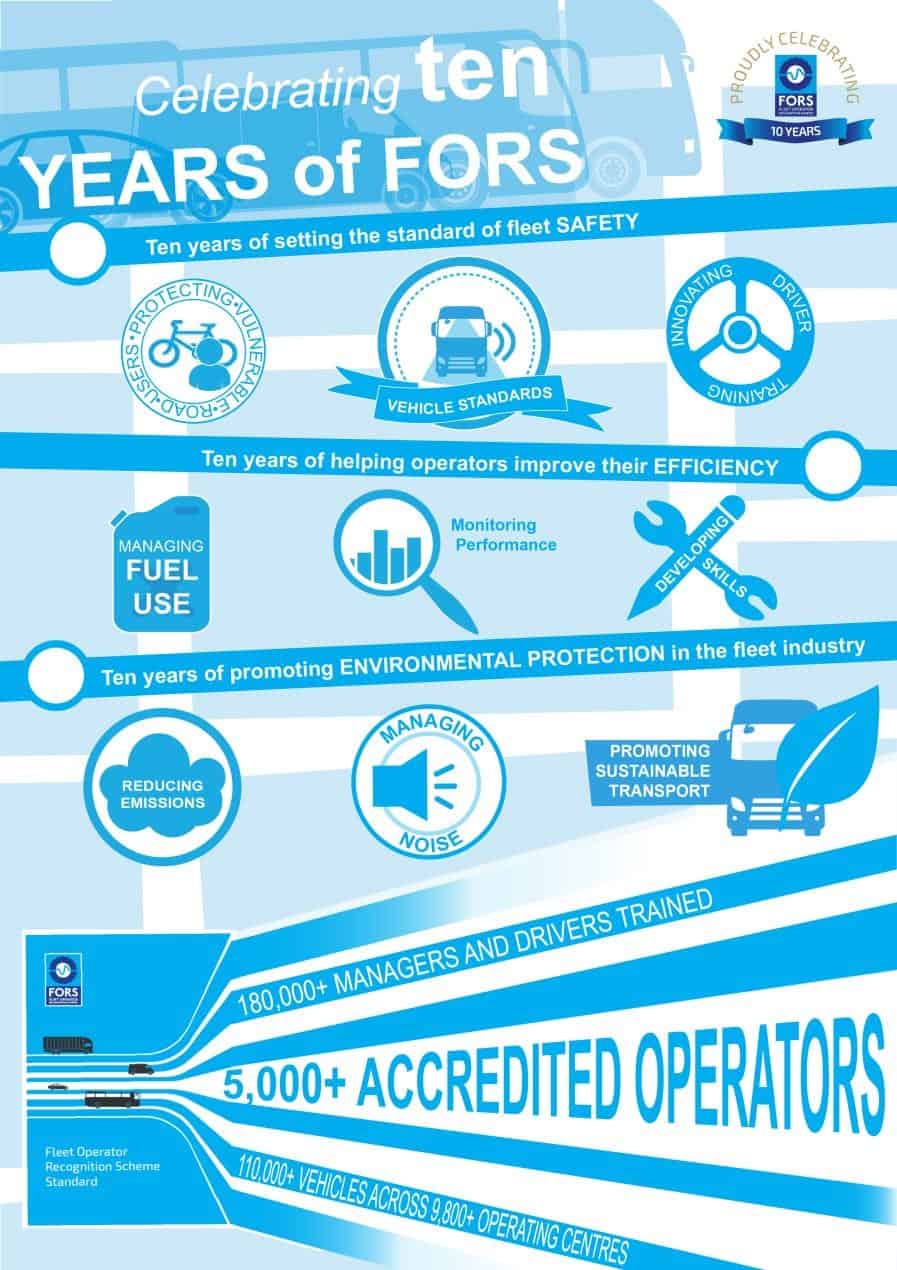 ---
If you are a FORS company, or if you are working towards accreditation, your business is entitled to some exclusive fuel cost saving offers from Fuel Card Services. Click here for more information.
back