Second-Hand EV Buying Guide
Written by: Simon Pavey, Last updated:13th October 2023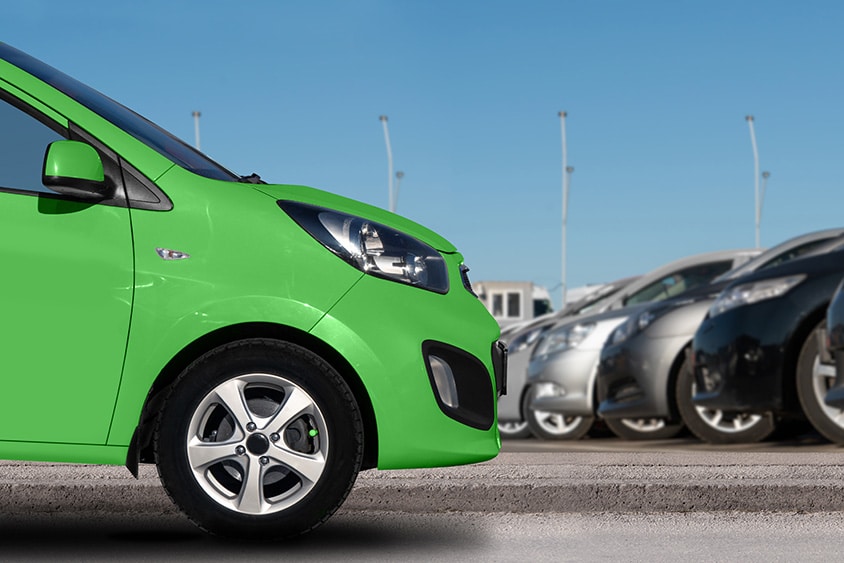 Second-hand vehicles are a great option for businesses looking to expand their fleet without spending too much to do so. When it comes to buying electric vehicles, new models often carry a hefty price tag that can make adding electric vehicles to the fleet financially unviable. Buying second-hand can help fleets of all sizes and budgets to increase their environmental sustainability and get ahead of the NetZero 2050 initiative.
Like buying any vehicle second-hand, however, the second-hand EV market can feel like a minefield. We have put together a quick buying guide for fleet managers exploring the possibility of second-hand electric fleet vehicles, outlining some of the most important things to remember before investing in used EVs.
Service history
A full service history is essential for purchasing any used vehicle, including electric, and a service history with big gaps should be a red flag. While vehicle servicing looks a little different for electric vehicles compared to their combustion engine counterparts, acquiring vehicles you can trust have been looked after properly is vital.
Can you service your fleet EVs?
You'll want your used fleet EVs to have been properly serviced before they arrive with you, but are you able to continue to service them moving forward? Depending on the size of your fleet and the location of your business, you might find it tricky to find a conveniently located garage that offers EV servicing. Make sure to check the services near your before you put your money into used electric vehicles and subsequently realise they are going to be a nightmare to get serviced.
Battery health
Battery health decreases over time and this applies just the same to electric vehicles as it might to a laptop or smartphone. Many things can contribute to battery degradation in EVs, including the use of faster charging points, overcharging, and running until 'empty'. While you won't be able to know if these actions have impacted the used EVs you are looking at, it's important you get a good idea of the battery's overall health and charging capacity.
Additionally, you'll want to know about the battery's warranty, including how long it lasts and if it can be transferred to new owners.
Cables and leads
We're all guilty of misplacing cables and leads, and the panic sets in when battery power runs low. It can be easy to survive without a phone charge for a little while, but you will be in a sticky situation should you need to replace the charging cables and leads for your newly acquired used EV. You can replace these vital pieces of kit, but you are going to be looking at a hefty additional price to pay on top of what you have already spent on your vehicle.
As such, make sure the used electric vehicles you add to your fleet come with the charging cables you need to keep them running.
Range
Understanding EV range is important whether you are looking to buy new or used, and will be a big influence in your decision making. Range anxiety is not quite the concern it used to be, with more charge points cropping up regularly and range capacity increasing with each new model of EV. However, when purchasing used EVs and especially older ones, it's important you understand what minimum range your fleet vehicles require.
For example, in 2018 the majority of midrange electric vehicles had a range of between 100-125 miles on a fully charged battery. Taking into account battery degradation, this potential mileage is lowered by approximately 2.3% per year, making the mileage capacity approximately 86-110 miles in 2023.
Depending on the types of journeys your fleet vehicles are making day to day, this might be plenty of mileage for many fleets and shouldn't be a concern. However, if your drivers are regularly taking trips of upwards of 100 miles on tight schedules, then this mileage capacity could be limiting and not a good fit for your fleet.
Charging
The final major consideration you need to make when acquiring electric fleet vehicles, both new and used, is if your business premises and your driver's homes (if necessary) have the infrastructure to support efficient charging.
Relying solely on public charge points is most likely going to be unsustainable for any fleet that isn't very small. Instead, have you considered the infrastructure you would need to invest in? Installing charge points for your electric fleet vehicles means convenient charging on the business premises and can even be subsidised by the government through the Workplace Charging Scheme.
Additionally, if your drivers keep their fleet vehicles at home then there are grants available to help cover the cost. Of course, it can be complicated to manage mileage allowance with home charging, so implementing tools like Allstar Homecharge can help to ensure that no one is out of pocket for charging carried out at home.
Allstar Homecharge from Fuel Card Services
Allstar Homecharge is an EV charging solution designed to take the hassle out of charging company vehicles at home. Whereas previously reclaiming charging allowance has been inaccurate and often left drivers out of pocket for the money they spend charging at home, Allstar Homecharge integrates with most home charge systems to calculate the costs of charging business vehicles. These costs are then charged directly to the business.
Less administration, less uncertainty, and a more convenient and cost-effective way to charge.
Speak to our experts today to learn more about how Allstar Homecharge could benefit your fleet.
back