How to prepare your car for long journeys
Written by: Simon Pavey, Last updated:14th February 2023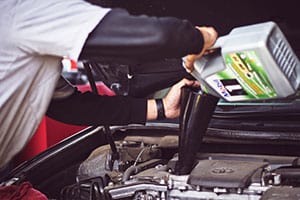 When you're preparing to set off on a long drive, you want to know that your car is in the best possible condition to reach your destination safely.
That's why it's important to do the right things to get your vehicle ready before setting off.
Here are some of the most useful steps you can take to ensure your car is prepared for a lengthy journey:
Check fluid levels
Checking the levels of the various fluids your car needs to run properly is one of the most important things you can do to keep the vehicle running properly. Before embarking on a long trip, make sure you check your engine oil, water, brake fluid and antifreeze are all at the right levels.
It's also a good idea to stock your car with the right fluids in case anything needs to be topped up during your journey.
Prepare your tyres
Make sure your tyres are pumped to the correct pressure and the tread depth meets the relevant legal requirements (1.6mm in the UK). This will help to ensure your tyres are ready for the journey and you can drive safely the whole way.
It's also important to pack everything you will need to change a tyre, including a spare that's inflated to the right pressure. To change a tyre, you'll need a jack, a wrench to remove the wheel nuts, a wheel chock to stop the car from rolling when it's jacked up, and a wheel nut key if locking nuts are fitted.
Test the brakes
It goes without saying that your brakes need to be in good condition to drive safely at all times, but it's particularly important to check them before a long journey.
Look out for warning signs that your brake pads are wearing thin and need replacing, like the brakes feeling soft when applied. A grinding sound could mean the brake pads are worn out and will definitely need to be replaced before a long trip.
Check your lights
Set aside some time before starting your journey to check that all of the lights on your car – including easily overlooked ones like fog lights and reversing lights – are in good working order.
It's a good idea to pack some spare bulbs in the car, just in case any need to be replaced during your journey.
Pack emergency kit
Preparing in advance will reduce the risk of any problems cropping up on a long drive, but it's always wise to have certain items in your car to deal with breakdowns or emergency situations.
Jump leads, a first-aid kit, a torch, a high-visibility vest and a warning triangle can all prove useful if you have problems on the road. If you're driving abroad, check local laws to see if there is anything specific you're expected to have in your car.
MyService.Expert from Fuelcard Services can help you ensure your car is ready for every journey with regular servicing, maintenance, repairs and MOTs available from thousands of garages nationwide.
back