Debate over 'death trap' smart motorways heats up
Written by: Simon Pavey, Last updated:14th February 2022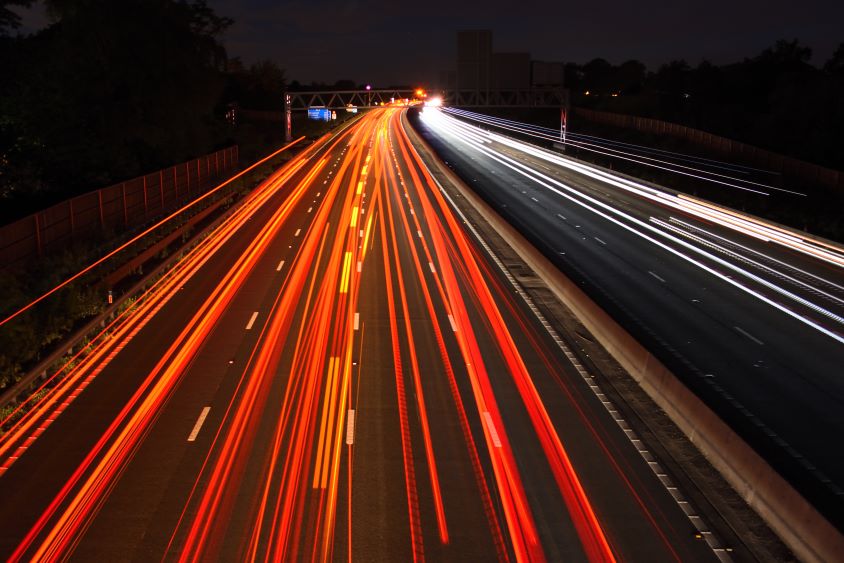 There's a lively debate taking place in the UK at the moment – one that fleet managers will have a particular interest in – relating to the safety of the country's busiest roads.
Smart motorways use various methods to improve traffic flow and reduce congestion, one of which is to turn the hard shoulder into an active driving lane.
Operating on stretches of the M1, M4, M5, M6, M42 and M62, this practice has raised safety concerns because motorists who break down could be stranded in traffic.
A recent report from the All-Party Parliamentary Group for Roadside Rescue and Recovery went as far as to call smart motorways "death traps". This followed a BBC Panorama investigation which found that 38 people have been killed on these stretches of road in the last five years.
Road safety should be the number one priority for fleet managers, who could be concerned by these figures. There are always steps you can take to improve safety, such as introducing telematics to better understand driver habits and behaviours.
'Shocking and careless'
The parliamentary group, which is made up of MPs from various parties, agreed that the introduction of smart motorways had led to the deaths of road users. It described the change as "shocking and careless".
Concerns have also been raised by Police Federation chairman John Apter, who told the Daily Telegraph the technology was introduced on the assumption that it would be able to instantly detect any lane obstructions. This would allow help to be dispatched, while overhead gantries would be updated to warn drivers and close the affected lane.
"We … have been completely misled and a poor system has been introduced," he added.
Sir Mike Penning, the former government minister who approved the smart motorway rollout, said the system is endangering people's lives.
"There are people that are being killed and seriously injured on these roads, and it should never have happened," he told the BBC.
Highways England responds
Highways England, which is responsible for managing motorways and major A-roads across England, responded to the recent controversy by releasing an official statement saying that "any deaths on our roads is one too many".
The agency said the transport secretary had asked the Department for Transport to carry out an urgent "evidence stocktake" to gather the facts about smart motorway safety.
"We are committed to safety and are supporting the department in its work on this," Highways England added.
As far as regular road users are concerned, RAC research released in November showed that nearly seven out of ten drivers (68 per cent) think removing the hard shoulder puts people at greater risk if their vehicle breaks down in a live lane.
Jenny Smith, general manager for Tele-Gence, commented: "Smart motorway safety is a big issue that – quite rightly – has attracted a lot of attention of late. Fleet managers should be sure to keep up with the latest developments in this area and take all necessary measures to help keep their drivers and other road users safe."
Your business can benefit from affordable telematics with no hidden start-up fees or long-term commitments. Find out how at www.tele-gence.com
back