1 in 4 HGV fleet operators 'still not using telematics'
Written by: Simon Pavey, Last updated:14th February 2022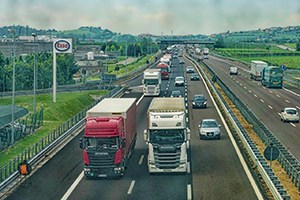 Fleet managers can gain a range of benefits from introducing telematics across their vehicles, including more efficient route planning and safety improvements through effective driver monitoring.
The latest research has provided insights into how widely this technology is being adopted across the fleet industry, with some (predominantly smaller) firms yet to recognise the benefits of telematics.
An 'exciting new chapter'
A fleet management study supported by Commercial Motor and Motor Transport found that a quarter of operators have not yet introduced telematics across their HGVs.
Those reporting that they didn't use this technology at all were mainly smaller operators running up to five vehicles.
All companies that were managing fleets of 500 trucks or more had deployed telematics at some level.
There was an even split in responses when companies were asked whether they used a single telematics provider for their fleets, or a combination of different systems.
A third of respondents that were using more than one supplier said this approach made it more difficult for them to gain maximum benefits from the data available.
Lorraine Sculley of Fraikin, which commissioned the research, said telematics systems have developed well past the point of simply being used for vehicle tracking.
"They are now providing access to incredible amounts of data designed to maximise operational efficiency, increase driver safety and improve vehicle reliability," she added.
"We are at the beginning of an exciting new chapter where data, and how we use it, will make the difference in efficiency and profitability."
Adoption of telematics is also on the rise among consumers, with recent research by Compare the Market predicting a "boom" in car insurance policies based on the technology.
Jenny Smith, general manager for Tele-Gence, commented: "Given the wide range of benefits and opportunities it offers, telematics could shape the future of fleet management in the UK. The businesses that are quickest to adopt this technology could see the biggest advantages."
Your business can benefit from affordable telematics with no hidden start-up fees or long-term commitments. Find out how at www.tele-gence.com
back