Top tips on safer driving as the nights draw in
Written by: Simon Pavey, Last updated:2nd September 2021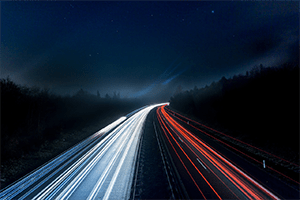 The clocks are preparing to turn back later this month and that means only one thing for motorists; evenings will be getting darker earlier.
Driving at night can come with significant dangers, so anyone taking to the roads after dark should always have their wits about them. With that in mind, here we've offered some sage advice for all road users when driving during the upcoming darker months of the year.
Top tips for safer night driving
Autumn and winter are notorious for having dark nights and poor visibility, with motorists also having to contend with harsh conditions that can further impact visibility. As a result, it's important for drivers to understand the dangers of night driving and to adopt different behaviour when they get behind the wheel after dark. We advise:
Avoid staring at oncoming traffic: The headlights of oncoming traffic can have a hypnotic effect on drivers, especially when travelling on motorways. As a result, it's important to maintain your eyes on the road ahead and not oncoming traffic.
Don't dazzle other drivers: High beam headlights are useful when faced with roads without lighting. However, be aware that high beams can be dazzling to other road users and should only be used when there is no oncoming traffic.
Keep your windscreen and mirrors clean: Maintaining good visibility is paramount when the light fades. Therefore, keeping your windows and mirrors clean will help to ensure you can see further.
Watch out for vulnerable road users: Darkness can mask a range of vulnerable road users, including cyclists, motorcyclists and horse riders. Be extra vigilant and on the lookout at all times.
Drive at an appropriate speed: When it's dark, the visible distance in front of the vehicle will be lower. As a result, you should cut your speed to ensure your vehicle will always stop within your visibility.
Don't drive when tired: Tiredness can cause motorists to lose concentration and in extreme cases to even fall asleep at the wheel. Always aim to be well rested when embarking on any journey and try not to drive in the early hours of the morning, if possible.
Get regular eye checks: Your vision is key to being able to discern hazards in the road and to generally drive safely. As a result, you should schedule regular eye tests to ensure you are able to see clearly even when it is dark outside.
Wear the right eyewear: Following on from our last point, be sure to wear the correct eyewear that limits the impact of glare when travelling at night, as headlights from other vehicles could dazzle you more easily when wearing inappropriate glasses.
October's the time to be extra careful
According to figures published by the Department for Transport, accident rates increase by 15 per cent on average in October each year in comparison to the preceding six months. This is largely due to the impact of darker evenings, falling leaves resulting in "greasy roads" and motorists failing to adequately adapt to the change in conditions.
Gordon Grant of Accident Exchange recently told the Telegraph: "October delivers some of the worst driving conditions of the year as the weather changes and the clocks go back but drivers continue as if they were in the summer months.
"They need to remember the basic laws of physics and common sense when the conditions change under their tyres."
Ellie Baker, brand manager at Fuel Card Services, comments: "As the nights draw in at this time of year, all road users should be prepared to take on the additional challenges of driving in the dark."
back