Top Tips for Fleet Managers: Preparing your drivers for winter driving
Written by: Simon Pavey, Last updated:17th February 2023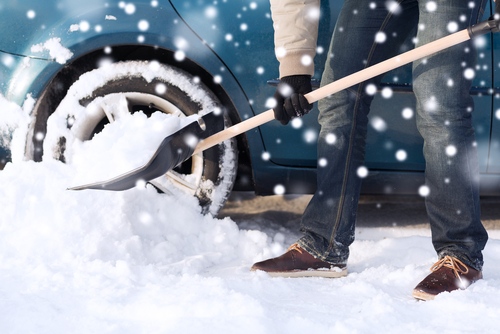 As the end of autumn approaches, it may be a good time to take a look at your winter vehicle checks and prepare your fleet for winter. Winter weather means an increase in rain, sleet, snow and ice, all factors that could make driving in the colder months of the year that much more dangerous. Research suggests that accident rates increase as much as 20 per cent on average during these winter months. But there are a number of checks and practises that can be undertaken to help ensure your fleet don't become a part of the statistics.
Here is a checklist we have compiled to ensure your vehicles and drivers are well prepared for what the winter brings.
Routine maintenance checks
Maintenance of your fleet vehicles should be constantly managed in any fleet business. But as winter approaches, it is crucial to ensure your vehicles are prepared.
MyService.Expert is a great tool that can help you to manage the maintenance schedule and costs for your fleet. Not only does MyService.Expert help to organise costs and bookings, we have also negotiated a range of competitive rates from garages around the country to help cut the costs.
Tyre checks
Tyres are key to both good steering and safe braking. Consider utilising winter tyres for all of your fleet vehicles, particularly if your vehicles tend to visit remote areas. Winter tyres have tread that gets harder as weather gets colder, allowing the vehicle to drive over ice or snow easier than general tyres
Check the tyre tread more frequently. The recommendation is that treads are 3mm minimum to manage slippery conditions.
Inspect engines
Inspect all engines often, especially before long haul journeys. For added protection, anti-freeze should be replenished when possible.
Replace old batteries
Minimise the possibility for battery failure by ensuring no batteries are older than 5 years. Older batteries may struggle to hold their charge in the cold, and this can lead to fleet vehicles not turning on. For the efficient operation of your fleet, consider checking the health of and even replacing batteries that are older than three years.
Screen Wash
Lastly, check the screen wash levels and ensure your fleet are using a screen wash fluid with a suitable freezing point. It's always important that screen wash is topped up so that drivers can clear their line of sight when driving, and should the screen wash freeze it could hinder visibility and safety.
Emergency packs for drivers
Ensure that all vehicles carry an emergency kit. If your driver breaks down, the emergency kit will provide some essentials to help the situation. Items may include:
High visibility jacket
Torch
Batteries
Screen wash
Ice scraper
De-icer
Emergency contact information
Make sure all of your drivers are aware of the emergency kits, so they are prepared if anything were to happen due to winter conditions.
Safety tips for winter driving
Keep your drivers updated of the possibilities of harsh weather. You may want to advise drivers to adapt their driver behaviour in line with severe road conditions.
Keep a constant speed
Keeping a constant speed when driving in winter weather helps to improve the grip of the vehicle to the road. Drivers should also move to higher gears quickly when driving on icy roads.
Leave plenty of room
Wet, icy and snowy roads can present an obvious risk of collision if not driven properly. Breaking distance is significantly impacted by winter weather, and as such fleet drivers should be reminded to always keep a generous distance between themselves and other drivers.
Avoid harsh acceleration
Accelerating harshly can cause vehicles to skid and trigger wheel spin. Whilst these are sometimes inevitable when driving in particularly cold and icy weather, not breaking too harshly can help to avoid it.
Use headlights in heavy snow
If faced with a journey in heavy snow, headlights should be used. Dense snow fall can seriously obscure driver vision, and driving in such conditions should often be avoided. However, when driving in snow is necessary, taking every measure to improve vision is vital to avoid accidents.
Use second gear to pull off
Using second gear and gently accelerating to pull off reduces the risk of wheel spin and skidding, allowing for a smoother and more efficient start to the journey.
Monitor driver safety with telematics
To add another layer of security, consider installing telematics in your vehicles. If your driver breaks down for whatever reason, you can locate your driver in a matter of seconds as opposed to relying on your driver's describing where they are.
Tele-Gence is our advanced telematics service designed to improve driver safety and reduce costs with the best of market technology. Offering fully customisable software with a range of great tracking tools that can help fleet managers to monitor driver habits and safety, Tele-Gence is a invaluable addition to fleet management tools as we head into the colder months.
We hope our top tips on how to prepare your fleet for winter is useful to you and your drivers. To discuss vehicle tracking options, our Tele-Gence team are on hand to talk through the best fit for your business.
back