Speed awareness 'crucial to avoiding repeat offending'
Written by: Simon Pavey, Last updated:2nd September 2021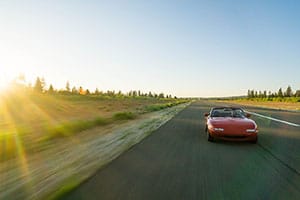 Speed awareness is one of the most important aspects of being able to drive safely.
As such, motorists up and down the country are being urged to keep a closer eye on their speedometer and to avoid the urge to speed due to the significant danger this poses to themselves, pedestrians and other road users.
Helping to avoid repeat offending
New research published by Kwik Fit has highlighted how 44 per cent of all drivers in the UK have been guilty of speeding and, of this figure, more than half (54 per cent) have done so on multiple occasions.
Repeat offending is therefore a major issue for the country's drivers and one that Kwik Fit believes could be effectively tackled through greater awareness of the dangers of excessive speed.
Roger Griggs, communications director at Kwik Fit, commented: "One of the biggest dangers on our roads is excessive speed, and the findings of our research indicates that speed awareness courses have a greater impact on drivers' behaviour than many perceive.
"Of course, while any measure which reduces the number of drivers repeatedly speeding is hugely welcome, we must focus on educating drivers not to speed in the first place – drivers should not need to be caught to be given a wake up call."
The dangers of speeding
Speeding poses a host of dangers to motorists and those around them, with excessive speed linked to an increased likelihood for drivers to lose control of their vehicle, as well as greater stopping distances and an increased severity of injuries in the event of an accident. Consistent speeding also risks damaging the vehicle itself, creating potential for more accidents in the future.
According to Kwik Fit's findings, the different punishments handed out by authorities do have an impact on repeat offending rates.
It found that 58 per cent of drivers who received a verbal warning were found guilty on another occasion of speeding. This compared to 55 per cent who received three points and a fine, and a staggering 90 per cent who received six points and a fine – although this final statistic may be skewed by the severity of the individual's first offence and a correlation between how far over the speed limit a person was found guilty of travelling.
Overall, just 24 per cent of motorists who have been on a speed awareness course were found guilty of reoffending, with many stating this had a significant impact on their driving behaviour in future.
Despite this, Kwik Fit believes that more now needs to be done to address this dangerous issue and get through to motorists that speeding is one of the most dangerous things you can do in your vehicle.
Ellie Baker, brand manager at Fuel Card Services, comments: "Speeding poses one of the biggest risks to all road users and it's an issue that motorists must not ignore. Greater awareness is therefore needed around the dangers of this behaviour, especially given the high proportion of repeat offenders who don't appear to be getting the message."
The thought that drivers in your fleet could be speeding is not a pleasant one. However, with Tele-Gence, you'll be given reports on driver behaviour. You'll know which drivers are safely operating their vehicles, and if any could be considered reckless. Get in touch today and find out what Tele-Gence could do for you.
back