Road safety advice for driving in bad weather
Written by: Simon Pavey, Last updated:14th February 2023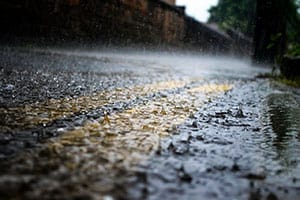 Bad weather comes with the territory when winter takes hold, with wind, rain, snow and fewer hours of sunlight all making driving that much more hazardous.
As a result, every motorist should know what to do to stay as safe as possible when the conditions take a turn for the worse. So, to make sure that's the case, we've put together a list of simple tips that will help drivers avoid the dangers of travelling in poor weather.
Plan journeys in advance
Preparation is everything when it comes to taking the stress and difficulty out of journeys during the colder, harsher months of the year. As a result, it's important to plan your journeys in advance before setting out.
This means mapping out your journey, including setting aside time for rest stops and paying heed to weather reports that should enable you to avoid the worst conditions. You should also factor in the time of day that you will be travelling and aim to avoid routes that are likely to have a higher volume of traffic.
Reduce your speed
The risk of snow, wind, sleet and rain is significantly higher during the winter months, so you must be prepared to tackle these conditions every time you get behind the wheel. Key to safer driving when faced with adverse weather is the understanding that you need to slow down.
Rain on the road can double the stopping distance of vehicles, while snow or ice can see distances become up to ten times further. As a result, you should take this into account when driving and reduce your speed when bad weather hits. You should also be sure to increase your following distance accordingly to other vehicles.
Be on the lookout for hazards
Vigilance is key when it comes to staying safe during adverse conditions, so make sure you are well rested and your vision is unimpaired whenever taking to the roads in poor weather – ensure your windows and mirrors are clear at all times and that your headlights are working correctly if travelling after dark.
Hazards like black ice, wet/frosty roads, sudden downpours, fallen branches, wet leaves and more congestion are all factors to take into account in order to stay safe. When driving, always try to look ahead to the conditions further up the road, as this will ensure you're less likely to need to brake sharply, which can be dangerous when stopping distances are longer.
Pack a winter emergency kit
No-one wants to be left high and dry should they face adverse conditions that lead to a breakdown, so it pays to be prepared and have a winter emergency kit in your vehicle at all times.
Essentials to pack include a portable phone charger/spare battery to be able to call for help in an emergency, an ice scraper for windows and mirrors, a shovel to help dig you out of trouble, blankets and extra warm clothes, a hazard warning triangle, a flashlight and extra snacks and water.
Keep your vehicle well-maintained
Finally, it's important to ensure you carry out regular inspections of your vehicle to avoid potential issues like breakdowns. This means going over the basics at the start of every journey, from inspecting tyres for excessive wear and tear or damage, to checking the battery is holding its charge even when the temperature plummets.
Other important checks should include ensuring your windows and mirrors are free from snow and ice to provide maximum visibility, as well as ensuring your wipers are in good working order and free from damage to be able to clear your windscreen when the inevitable rain arrives.
MyService.Expert offers a nationwide network of garages where our customers can carry out essential repairs and maintenance for their vehicles. We also offer discounts on all parts and labour, with savings of up to 30 per cent.
back