Research reveals worst road for potholes
Written by: Fuel Card Services, Last updated:11th August 2020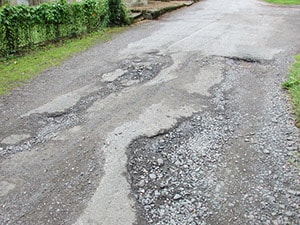 Anyone who regularly takes to Britain's roads as part of their job or business will know what a poor state some of them are in.
Now, a new study has revealed which highway in Britain can take the dubious honour of being the very worst for pothole damage.
A rocky road ahead
Car Parts 4 Less analysed data from councils across the country to compile a list of the roads that have been complained about by drivers the most over the past 12 months.
Although the north-west has typically performed badly in terms of its road surfaces, it didn't prove to be the worst offender in 2019. This year, Bath Road in Hounslow, London was given that title, with an enormous 828 complaints lodged against it last year.
Second place went to Seven Hills Road in Surrey with 628 complaints, followed by Oxford Street in London (530), Burnley Road in West Yorkshire (465) and the A390 in Truro/Chiverton (391).
It isn't likely to come as much of a surprise to fleet owners that so many of the country's roads are in a poor state of repair, with the annual repair bill for all motorists coming in at £1.7 billion every year. The average repair bill is £157.75 – which could really mount up when extrapolated across a set of company cars.
Meanwhile, almost 40,000 miles of British roads are in a 'poor condition' and may start to wear within five years, according to the Asphalt Industry Alliance.
The government plans to spend a total of £28.8 billion on improving Britain's roads over the coming years, while it also announced last year that councils in England will receive an extra£420 million to deal with potholes specifically.
"It's always valuable to us to look at the country's worst roads so we're able to pass this insight onto our customers. Although this tool won't fix the offending roads for drivers, it should help build drivers' awareness of the worst roads and which ones to avoid to protect their car from damage," a Car Parts 4 Less spokesperson said.
Last year, the pothole problem was becoming so bad after a period of cold weather that the AA urged fleet managers to give their drivers special tips on how to avoid them. It pointed out that fleet drivers are at greater risk from vehicle damage because they clock up more miles than average and are often on unfamiliar routes.
Ellie Baker, brand manager at Fuel Card Services, comments: "London has some of the busiest roads in the UK, so it is perhaps inevitable that those surfaces are now starting to suffer. However, we believe the government has a responsibility to act everywhere to prevent drivers and businesses experiencing damage to their vehicles."
back