Peugeot adds new Expert Sport Edition to Expert Panel Van and Crew Van models
Written by: Simon Pavey, Last updated:15th February 2022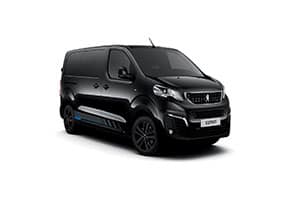 Peugeot has announced the launch of new variants for both its Expert Panel Van and Crew Van model ranges.
The French marque is adding its Expert Sports Edition package to both vehicles for UK buyers.
Adding new flair to two popular models
The new Expert Sports Edition package will add a host of additional equipment to both models, including 17-inch Black Phoenix alloy wheels, Sports decals on the sides and rear of the van and dual zone automatic air conditioning.
Buyers will also be able to choose from three new exterior colours: Cumulus Grey, Bianca White and Nera Black.
The new package option will sit above the Asphalt variant package in both model ranges and will benefit from the same variable specification options as the standard Expert Panel Van and Crew Van.
"Our van customers are just as style-conscious as our car buyers and expect all the comfort features they will find in the Peugeot car range," commented David Peel, managing director of Peugeot UK.
"The new Expert Sport Edition range is available to order now and is destined to be a hot favourite with our van customers."
Prices for both the Expert Panel Van and Crew Van models will start from £29,460.
Ellie Baker, brand manager at Fuel Card Services, comments: "Fleet managers looking to add flair and an extra dose of style to their model offering will be pleased to see the launch of this new package. It gives ever-greater choice to buyers and is sure to go down well with drivers."
back