New in-car maps could help drivers locate green car charging points
Written by: Simon Pavey, Last updated:15th February 2023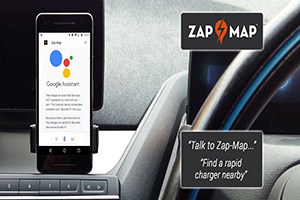 A popular maps service for people with hybrid or electric vehicles (EVs) has revealed it is now available through Google Assistant, meaning motorists can use it to locate charging points hands-free while they drive.
Zap-Map already operates a comprehensive database covering the locations of 95 per cent of the UK's green car infrastructure, but this would previously have had to be searched manually.
Ask your car to look up maps for you
Now, Android and iOS mobile devices, Google Home hubs and cars linked to Google Assistant can search the information through voice commands.
This is perhaps most exciting for green vehicle drivers, who will simply need to activate the system by saying: "Hey Google, talk to Zap-Map" and can then ask the database to find the nearest charging point to their location, as well as its network operator and whether or not it is currently in use.
It could mean an end to the fear of setting out on a journey and being unsure where a car's next charge might come from.
The news has already been welcomed by the RAC, which said it should help drivers navigate the unfamiliar world of public charging more easily.
Co-founder of Zap-Map Ben Lane said: "We are providing a quick and simple way for drivers to find out information on charge points at home, on the move and, for the first time ever, hands-free when they most need it – while driving."
This comes after Ovum found the number of virtual digital assistants is set to surpass the world's population by 2021.
Jenny Smith, general manager for Tele-Gence, commented: "Developments like these are really exciting and could help to eliminate the issue of being caught out somewhere with no idea where your car's nearest charging point is. We're looking forward to trying out the technology."
Your business can benefit from affordable telematics with no hidden start-up fees or long-term commitments. Find out how at www.tele-gence.com
back