New FORS Standard unveiled
Written by: Fuel Card Services, Last updated:27th February 2023

FORS has revealed the new FORS Standard at its annual Members' Conference.   
The new FORS Standard is the fifth iteration of the document. It sets out the requirements operators must meet if they wish to become FORS accredited. 
The revised edition addresses the need for air quality improvements and sets out requirements to help operators mitigate against threats of terrorism. Provision is also made for a broader range of operations and vehicles, including powered two-wheelers, and new requirements for bus and coach operators.
The FORS Standard is updated every two years to reflect the continuous evolution of best practice and FORS's singular aim to drive-up safety, environmental, and efficiency standards for all road transport operations. Version 5 of the FORS Standard was revealed to 500 FORS members at its annual conference in Birmingham today (Tuesday 16 October).
This edition of the FORS Standard, published as FORS reaches its 10th year of operation, highlights the increasing diversity of commercial fleets and aims to make it more accessible for a broader range of vehicles to achieve accreditation. It contains a more robust commitment to raising environmental standards in operations, recognising the need for better air quality in UK cities via revised requirements and a revised training programme.
FORS director, John Hix said, "FORS has always been committed to promoting continuous best practice, both in the progressive nature of our accreditation, and in the way we work to ensure our requirements remain relevant.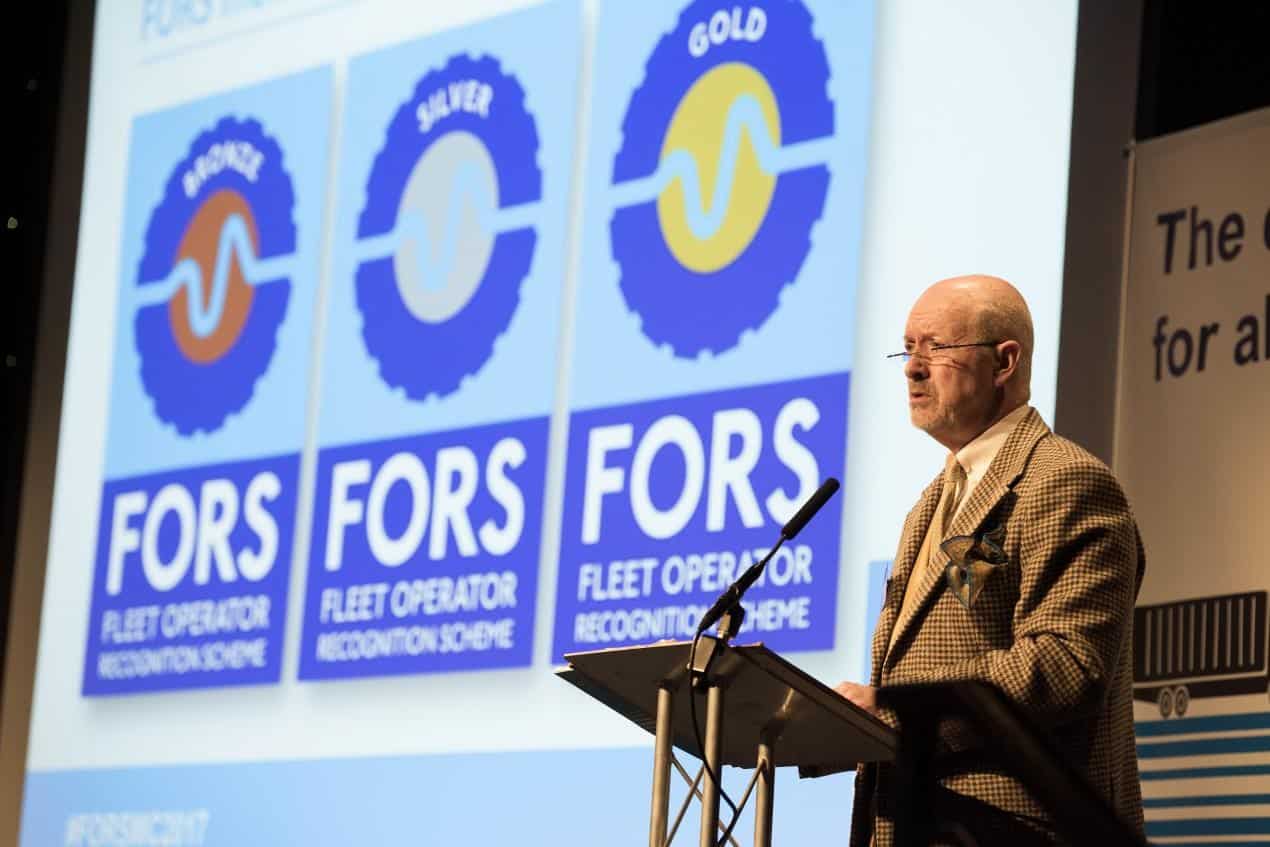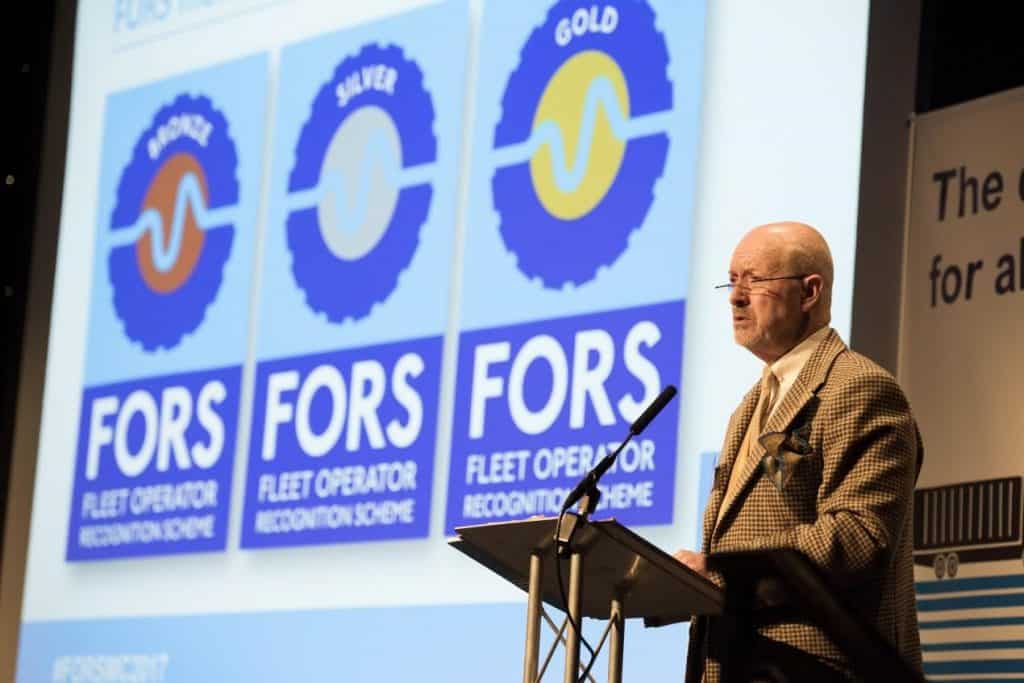 "The FORS Standard is not a static document, because best-practice is not static. The FORS Standard must respond to emerging best practice and new legislations which affect members, and the feedback of members themselves."
Key changes – FORS Bronze Audit
The revised FORS Standard has been designed to make FORS accessible to more vehicles, especially the growing fleets of motorcycles and other powered two-wheelers, which contribute to many last-mile deliveries on UK roads. Now, specific load safety requirements set out by vehicle type are included not only for heavy goods vehicles, vans and passenger carrying vehicles (PCVs), but also powered two-wheelers.
PCVs are also given greater credence, with a new requirement at FORS Bronze to ensure accessibility, comfort and safety for all passengers.  The requirement must be demonstrated via a passenger safety policy, on vehicle signage and adequate access for all passengers.
A new counter terrorism requirement has been introduced, meaning operators must have a policy and supporting procedures in place at FORS Bronze, which names a Counter Terrorism Champion. Under new Bronze training requirements members must also have completed the current FORS Professional Security and Counter Terrorism eLearning module within the 24 months prior to audit.  Since its launch in January 2018, the module has been completed by over 15,700 individuals.
John Hix noted, "With the terrorist threat ongoing, it is now more important than ever that we all play our part in tackling the dangers to personal and vehicle safety.  FORS is proud to be supporting our operators and drivers in managing and reducing risk in their day-to-day operations."  
Key changes – FORS Silver and Gold Accreditations
An added emphasis on improving environmental operating standards becomes evident with a  new requirement at FORS Silver for HGV and van drivers to complete the FORS Professional 'LoCITY – Time to clean up' eLearning module within the 24 months prior to accreditation.
In line with the progressive nature of the scheme, FORS has also introduced a requirement at Gold for drivers to have completed either the FORS Professional LoCITY Driving training course, or a FORS Approved environmental awareness course within the past five years.  This is in addition to the current requirement to have attended a Safe Urban Driving (SUD), a Van Smart (VS) or a FORS Approved work-related road safety training course, within the five years prior to accreditation.
FORS Silver also includes a commitment to tackle noise pollution – a criteria formally only mandated at FORS Gold.  Operators seeking FORS Silver accreditation must complete noise assessments at operating centres and noise sensitive locations in a bid to minimise noise pollution and its impact on local communities.
The new FORS Standard aims to minimise the probability and severity of collisions involving vulnerable road users.  FORS Silver accreditation is also fully aligned to meet both the TfL requirements on managing work-related road risk (WRRR) and the new CLOCS Standard v3, due to come into force  in January 2019.  
The evolution of the FORS Standard
The FORS Standard review process has been managed by the Chartered Institute of Logistics and Transport (CILT), part of the FORS Community Partnership (FCP), under the direction of a Technical Advisory Group of the FORS Governance and Standards Advisory Group (GSAG) – a group made up of FORS members, specifiers and stakeholders who provide advice and guidance on the development of FORS.
John Hix concluded, "FORS has grown from a relatively-small London-centric operation, to encompass well over 5,000 members of diverse fleets nationwide.  With this truly national remit, it is vital that FORS is flexible enough to meet the evolving challenges our members face and to help operators striving for continuous operational excellence and best practice.  We are confident the new Standard moves our members forward on this course."
"Version 5 FORS requirements and demonstrations will guide FORS members on how to run a safe, efficient and environmentally-sound operation," said John Hix, adding, "their operation is in safe hands with the FORS Standard."
back