Loading-bay fines mount for UK van drivers
Written by: Fuel Card Services, Last updated:14th February 2022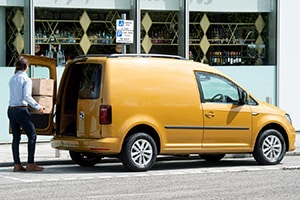 The UK's van operators are facing a growing cost as a result of councils fining drivers for incorrectly parking or stopping in loading bay areas.
Figures published by Volkswagen Commercial Vehicles show Penalty Charge Notices (PCNs) totalling £1.7 million have been issued to van drivers in the last three years.
Clear understanding is key to safe parking
A total of 13,000 fines have been issued each year since 2015, highlighting how rules surrounding loading bays remain unclear to some drivers.
That said, the company's data also showed that 23 per cent of PCNs are successfully challenged and withdrawn, so it pays to have a clear understanding of the rules around when it is and is not appropriate for bays to be used.
Sarah Cox, head of marketing at Volkswagen Commercial Vehicles, commented: "As this research reveals, PCNs are costing businesses thousands of pounds a year when, in fact, they can be avoided completely if you understand the rules correctly."
Ms Cox added that loading bays make up an essential part of the 'red route network' for drivers, providing access to businesses and central locations. Companies should, therefore, keep abreast of changes in local loading bay rules in order to minimise their exposure to PCNs.
Jenny Smith, general manager for Tele-Gence, commented: "With businesses up and down the country relying on the use of parking bays for the delivery of their goods, it's essential that drivers know the rules."
Your business can benefit from affordable telematics with no hidden start-up fees or long-term commitments. Find out how at www.tele-gence.com
back