Jaguar pioneers new tech to prevent falling asleep at the wheel
Written by: Fuel Card Services, Last updated:9th February 2022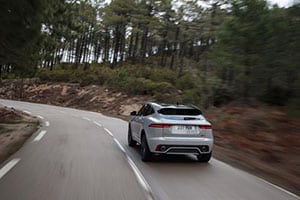 Jaguar is pioneering revolutionary new technology that aims to prevent the issue of drivers falling asleep at the wheel.
According to a poll by the AA last year, one in eight drivers admits to having nodded off while driving at least once, but Parliamentary Advisory Council for Transport Safety statistics show this can cause up to 25 per cent of fatal accidents.
New system to provide alerts
With this in mind, Jaguar developed its Drive Condition Monitor, which receives data as regularly as every thousandth of a second to detect tell-tale signs of drowsiness.
For instance, the pedal inputs and power steering are checked for use and movement, while general driving behaviour is 'observed' by the system for anomalies.
Driver Condition Monitor can then issue a warning for the motorist to take a break using a coffee cup icon on the control panel.
The system is to be fitted as standard on the E-PACE and across the manufacturer's range going forward.
Jaguar spokesperson David Willey said: "We continuously review the latest advances in vehicle safety and develop innovative technologies to improve the driving experience, making it safer and more enjoyable."
Driver Condition Monitor has already been praised by Edmund King of the AA, who pointed out that the shocking figures surrounding drowsy drivers are probably under-reported.
Jenny Smith, general manager for Tele-Gence, commented: "It is great to see Jaguar coming up with such a great solution to save lives on the roads. However, we would also warn motorists that the best way to prevent falling asleep at the wheel is to stop and rest at the first signs of fatigue."
Your business can benefit from affordable telematics with no hidden start-up fees or long-term commitments. Find out how at www.tele-gence.com
back