IAM offers wet weather driving tips
Written by: Fuel Card Services, Last updated:11th August 2020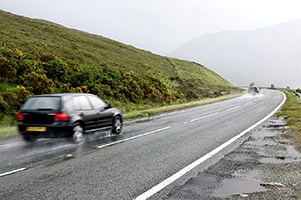 Many parts of the UK have faced lashing winds and rain in recent days, with flood and storm warnings issued for many areas.
As a result, UK road safety charity IAM RoadSmart has urged drivers to be prepared to tackle wet conditions when taking to the roads.
Always pay attention in the wet
Heavy rainfall can affect driving conditions in a number of ways, so here are a few challenging examples that IAM reminds all motorists to be aware of:
Reduced visibility: Spray from the road and heavy rain mean motorists will not see as clearly in the wet. As a result, drivers should always slow down to maintain a clear gap to other road users.
Risk of aquaplaning: Pools of water on the road's surface can result in aquaplaning under braking. To recover from this, ease off the accelerator, maintain a firm grip on the wheel and avoid any sudden changes in steering.
Deep standing water: Flooding can be a serious issue, especially on rural roads. Always remember that deep water is a hazard and can result in your car becoming stranded.
IAM RoadSmart head of driver and rider standards Richard Gladman commented: "In the recent extremes, we have seen that standing water and floods are becoming more commonplace, so take extra care and if possible avoid driving through standing water.
"If you're in any doubt about the depth or surface underneath a flood, then it's best not to take any chances."
Ellie Baker, brand manager at Fuel Card Services, comments: "Thankfully, the worst now appears to be over in terms of heavy rain for many parts of the country. That said, you never know when the temperamental British summer will bring another downpour."
back