IAM offers tips for stress-free commuting
Written by: Fuel Card Services, Last updated:11th August 2020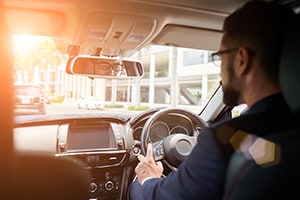 The daily commute can be a stressful affair, with heavy traffic, pressure to arrive at work on time and thoughts of the day ahead.
That said, IAM RoadSmart believes there are some simple steps all drivers can take to reduce the amount of stress they feel on their way to work.
Expect the best but be prepared for the worst
Here are the IAM's top tips:
Plan your journey – We all have certain routes we like to take to work, but keep abreast of potential roadworks or disruptions that mean an alternative might be the better option.
Stay alert – Busy roads can be hazardous, especially when in stop-start traffic. Make sure you are alert at all times and you are regularly checking your mirrors for vulnerable road users, such as cyclists or motorbikes.
Carry out regular vehicle checks – Maintenance is key to cars running smoothly, so always check tyres, oil and fluid levels to reduce the risk of suffering a breakdown.
Keep an eye on the weather – Poor conditions can drastically increase journey times, so always keep up to date on the weather and leave extra time to reach your destination if needed.
IAM RoadSmart head of driving and riding standards Richard Gladman concluded: "Our daily commute can become the time we pay the least attention to our driving – don't let yourself become complacent. Plan it as if it was a new adventure each day and try to keep your concentration levels up."
Ellie Baker, brand manager at Fuel Card Services, comments: "The daily commute is a journey that many abhor, but by leaving extra time and planning ahead, you can limit the amount of stress it causes."
back