How to stay safe on the road when winter takes hold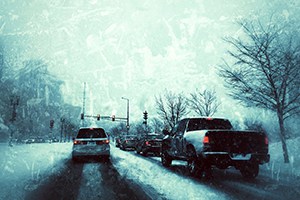 Winter is here and that means driving is far more hazardous than at any other time of year.
If you want to stay safe this winter, then it pays to be smart about your driving behaviour. Indeed, research shows that accident rates increase by 20 per cent on average during the winter months.
Motorists can do something about this, however, with some simple steps helping to make all the difference when it comes to staying safe when there is snow and ice on the ground.
Top tips on safer winter driving
First and foremost, it's important to remember that with the inclement weather common in winter comes the need to be extra vigilant when taking to the roads.
For example, when it rains, stopping distances can be doubled, so you should always remember to cut your speed and leave ample distance when following other road users.
Moreover, when it's icy, stopping distances can be ten times what they are in the dry, so slow down when faced with ice or snow. Always adjust your speed to match the conditions you face.
As traction can be reduced when its cold and wet, remember to apply smooth driving practices that will help to maximise grip. This means avoiding aggressive braking and acceleration, as well as looking ahead on the road to anticipate potential hazards.
Darker evenings also mean it is imperative that motorists have good visibility, so take the time to ensure windows and mirrors are clean and clear at all times.
Finally, it's important to stay connected when travelling in adverse weather, so charge up your mobile and have it ready to be able to call for assistance in the event of an emergency.
Make sure your car is in top condition
Winter can be a particularly harsh environment for vehicles, with freezing temperatures, rain, sleet, snow and grit on the roads meaning there is the potential for higher levels of wear and tear than at any other time of the year.
As a result, keeping your car clean and well maintained during the winter months should be a top priority for all drivers, as doing so will help to ensure excessive wear and tear and corrosion of parts and bodywork can be avoided.
Simple checks that every driver should aim to undertake each time they embark on a winter journey include checking the battery to ensure it is holding a good charge, the condition of tyres to ensure they have sufficient tread depth and are not overly worn, as well as cleaning your lights, windscreen and mirrors to maximise visibility.
Ellie Baker, brand manager at Fuel Card Services, comments: "Driving in the colder winter months is never easy, especially when faced with freezing temperatures, ice, wind, rain and darker days. Taking the time to properly prepare for every journey and being extra vigilant when behind the wheel is therefore essential."
back