How new technology could keep country drivers – and animals – safer
Written by: Simon Pavey, Last updated:14th February 2022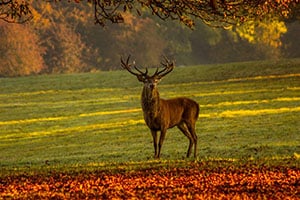 There are many hazards when driving on rural thoroughfares, but one of the most common – and most dangerous to drivers – is the propensity for wild animals to suddenly run out into the road in front of cars.
Thousands of collisions every year
According to a survey carried out last year on 2,000 motorists by Confused.com, 39 per cent of Britons say they have hit an animal with their car at some time or another, while 49 per cent have taken aversive action to avoid doing so. Many of these motorists have either braked sharply or swerved, which may have put them or other road users in danger.
Highways England, Transport Scotland and the Welsh Department of Transport figures show they received reports of nearly 4,000 dead animals by the roadsides in 2016 and 2017, with deer, badgers and foxes the most common fatalities.
However, these statistics may be significantly short of the actual total, since there is no legal requirement to report hitting a wild animal in this country. Indeed, the National Deer Collisions Project believes the numbers may be closer to a million animals and ten million birds.
Drivers don't always get away lightly either, with Highways England suggesting 400 motorists are injured in up to 74,000 deer-related accidents in particular every year.
Deer are certainly among the most hazardous animals from a driver's perspective, because they are large, heavy and panic in the face of oncoming traffic, resulting in them frequently standing stock-still in the middle of the road.
However, short of signage placed by roads that are particularly affected, little has been done thus far to reduce the number of collisions with deer and their woodland neighbours.
A helping hand from specially-designed sonic devices
Now, though, new technology may be stepping up to offer a helping hand and an innovative solution to the issue.
According to Engineering and Technology magazine, Channock Chase in Staffordshire has been trialling virtual sonic fence devices using funding from the council, the British Deer Society and the Area of Outstanding Natural Beauty.
Austrian company ITPE Solutions supplied the gadgets, which were placed along a particularly perilous spot for fallow deer collisions. They work by emitting strobe LED lights and sonar signals when they sense car headlights, with the aim of scaring wildlife away before the vehicle reaches their location.
Encouragingly, the project was a success, with 60 per cent fewer deer deaths at night during the 12-month trial. This autumn, the scheme has been expanded to take in more roads and include even better sonic fence technology.
This isn't the first time such solutions have been deployed, with Borzano in Italy and parts of Australia also reporting reductions in animal-related accidents since they brought in similar devices.
Ranger with Staffordshire County Council Rob Taylor told Engineering and Technology he wants to see further trials carried out and more research done into how sonic devices could be adapted for use with herds that tend to follow a lead animal.
Meanwhile, Highways England is reportedly looking into funding for a project using the technology.
"We are always open to new technologies and innovations to help reduce the number of animals harmed on our network and to help keep road users safe, and we are interested in the potential of the devices used in other countries," a spokesperson told the magazine.
In the meantime, drivers will have to rely on the traditional advice to watch their speed and stay alert for animals on rural roads. But it is heartening to know that improved technology could soon be significantly improving safety in the countryside.
Jenny Smith, general manager for Tele-Gence, commented: "This is truly fascinating stuff and we'll be watching with interest how further research develops. Animal collisions can occur in an instant, so any device that prevents this danger would be welcomed by us."
Your business can benefit from affordable telematics with no hidden start-up fees or long-term commitments. Find out how at www.tele-gence.com
back