Get ahead of the grit: the benefits of truck washing
Written by: Simon Pavey, Last updated:15th February 2022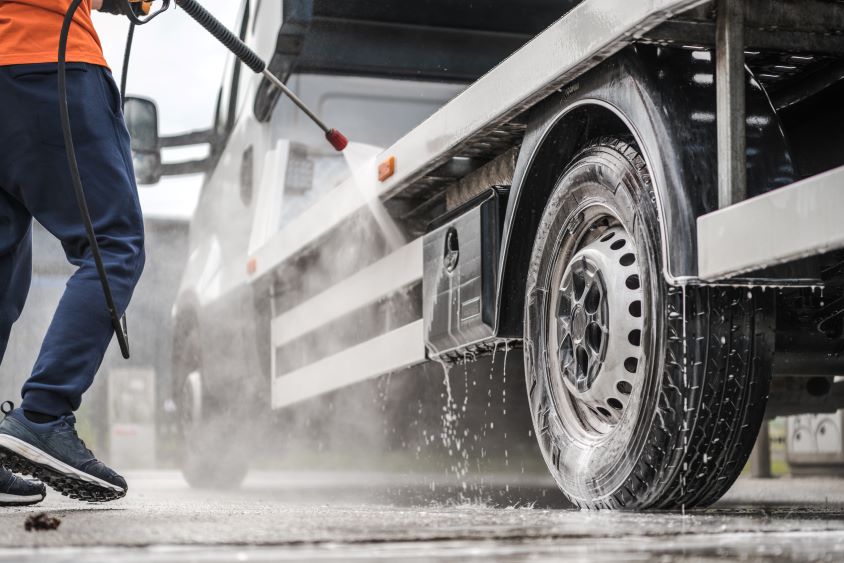 Everyone knows a dirty truck doesn't look great but dirt can do more than just damage a driver's pride.
Safety first – the most important part of a fleet managers role is making sure drivers are kept safe and out of harm. Winter driving throws up a range of safety considerations and simple changes can make a big difference. With low sun during winter, dirty windscreens can increase glare and drastically impair drivers' vision. Keeping on top of truck cleaning helps keep windows clear and contributes to avoiding incidents on the road.
Beautiful branding – your fleet acts as travelling advertisements for your company and sparkling clean vehicles can support a strong brand. After all what does a dirty fleet say about a company?
Damaging dirt – salt used for gritting can build up, particularly on fleet vehicles doing significant mileage on major roads. Left unchallenged this can lead to possible corrosion, meaning keeping your trucks clean goes beyond the simple aesthetics of a bright clean fleet.
As part of the BP Drive Britain offer you can get access to the wide network of SNAP truck wash sites across the UK, with the added benefit of seamless payment through your existing BP fuel cards. Drivers can easily locate their nearest site, with the ability to filter for sites offering truck wash and secure truck parking facilities.
You can find out more here, or speak to your account manager to discuss how BP Drive Britain can help your business.
If you want to start saving your diesel & petrol bills, then look no further than our own BP fuel card, for more information, click here: https://www.fuelcardservices.com/brand-bp/
back