GEM warns drivers 'be aware of Red X lanes'
Written by: Fuel Card Services, Last updated:11th August 2020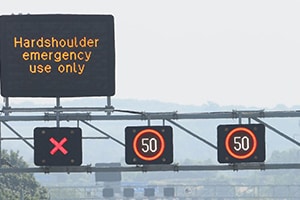 Breakdown and recovery specialist GEM Motoring Assist has warned UK drivers to be alert to changes on smart motorways up and down the country.
New systems to monitor traffic mean anyone now caught using a closed lane – marked by a Red X on overhead signage – could land themselves in hot water.
Be alert to your surroundings
GEM road safety officer Neil Worth commented: "Red X signs are often displayed well ahead of motorway incidents, as they help ensure that emergency vehicles can reach the incident.
"Someone might be stranded in that lane, or there may well be emergency or recovery workers assisting at a collision or a breakdown."
Systems to monitor and record drivers making use of closed lanes came online on June 10th.
Now, anyone found to have used a lane marked with a Red X could face fines of up to £100 and three points on their licence.
As such, GEM advises motorists to remember that a Red X means the lane is closed to all traffic.
If you see a Red X sign ahead for the lane you are using, move across to another lane as soon as it's safe to do so.
And always remember that the Red X can be shown on signs located on the verge of the carriageway or on signs above each lane across it.
Jenny Smith, general manager for Tele-Gence, commented: "Always pay attention to your surroundings when driving and that is especially important when using smart motorways. Variable signage means situations can change quickly and you should always follow these directions for motorway users."
Your business can benefit from affordable telematics with no hidden start-up fees or long-term commitments. Find out how at www.tele-gence.com
back