Fleet drivers distracted by mobile phones, poll finds
Written by: Fuel Card Services, Last updated:14th February 2022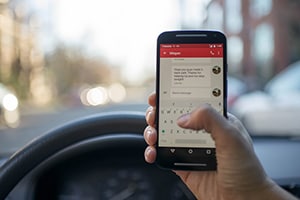 Fleet drivers may not be able to pay enough attention to the roads because they are distracted by their mobile phones, new research has suggested.
Always-on expectations from managers
A poll of 1,006 employees and 255 executive directors by the government-backed Highways England programme Driving for Better Business (DfBB) found 49 per cent of business leaders expect their employees to answer their phones at all times, even while driving for work.
As a result, 45 per cent of employees said they experience stress when they are behind the wheel and receive a call from their boss.
More worryingly, 61 per cent of employees said they do not always – or only sometimes – find a safe place to stop to take the call if their phone rings while they are driving.
Indeed, despite it being illegal, one in 20 executive directors and one in eight employees thought the hard shoulder of a motorway is an acceptable place to take a work-related call.
The study also found that 17 per cent of those who drive for work have been involved in an accident due to a phone call from a colleague.
Campaign manager for DfBB Simon Turner told FleetNews.co.uk: "Leaders must implement a driving for work policy that enforces legal and ethical obligations on all employees that drive on work-related journeys."
According to the most recent figures from the Department for Transport, drivers using mobile phones were responsible for 33 deaths on Britain's roads in 2017.
It is illegal to hold a phone while driving and motorists must have hands-free access if they wish to take calls.
Ellie Baker, brand manager at Fuel Card Services, comments: "This study presents a worrying picture of the expectations some managers are placing on their fleet drivers. We would urge them to have a rethink and always put safety first."
back