First successful trial of autonomous truck platooning by Hyundai
Written by: Simon Pavey, Last updated:15th February 2022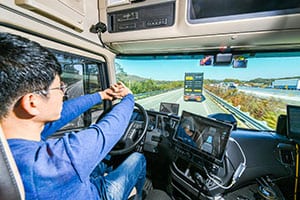 Hyundai Motor Company has completed a landmark test that successfully saw a platoon of trucks travelling autonomously as one.
The test took place earlier this month on the Yeoju Smart Highway and replicated real-world traffic conditions.
A significant step forward for self-driving vehicles
The trial was carried out using two trailer-connected Xcient trucks. The Yeoju Smart Highway is a 7.7 km testbed constantly populated by vehicles for autonomous driving research, making it quite similar to the conditions of an actual highway.
A demonstration of the capabilities of Hyundai's new platooning system for automated driving saw vehicles moving in and out of the connected trailers with each vehicle maintaining safe distance and connection to the rest of the platoon.
Emergency braking systems were also tested and operated successfully, while communication between the two trailers was monitored at all times and was shown to operate effectively.
The test saw a constant speed limit of 60 mph adhered to by all vehicles, meaning future tests will be required to more closely replicate real-world conditions with shifting speeds.
"We are confident that our industry-leading autonomous driving technology in commercial vehicles showcased in this platooning truck demonstration will lead into a revolutionary paradigm shift in the freight and logistics industry," commented Jihan Ryu, head of Hyundai Motor's Commercial Vehicle Electronics Control Engineering Group.
What does it mean to reach Level 5?
There are five levels of autonomous driving, rated as:
Level 0: No automation – the driver performs all tasks.
Level 1: Driver assistance – some individual automated assistance available, but the driver is in full control at all times.
Level 2: Partial automation – some combined automated functions, but the driver must remain in control at all times.
Level 3: Conditional automation – driver not required to monitor the environment in specific circumstances but must always be prepared to take control.
Level 4: High automation – vehicle has full automation in some conditions; driver has the option to take over if needed.
Level 5: Full automation – vehicle is capable of performing all driving functions under all conditions, but driver has option to take charge.
At present, many vehicles can claim to be at Level 3 or 4; Level 5 automation is proving elusive. This latest successful test, however, may mean full automation could be just around the corner.
Mr Ryu concluded: "We will strive to create constructive synergy by sharing our knowhow and experiences of developing autonomous driving technology between commercial vehicle and passenger vehicle sectors to expedite Level 5 autonomous driving technology."
Jenny Smith, general manager for Tele-Gence, commented: "This successful test could be a landmark moment in the development of fully-autonomous vehicles for the freight and logistics sector. It represents a significant step forward in autonomous vehicles.
Your business can benefit from affordable telematics with no hidden start-up fees or long-term commitments. Find out how at www.tele-gence.com
back