Electric or hybrid cars for commercial fleets?
Written by: , Last updated:9th June 2023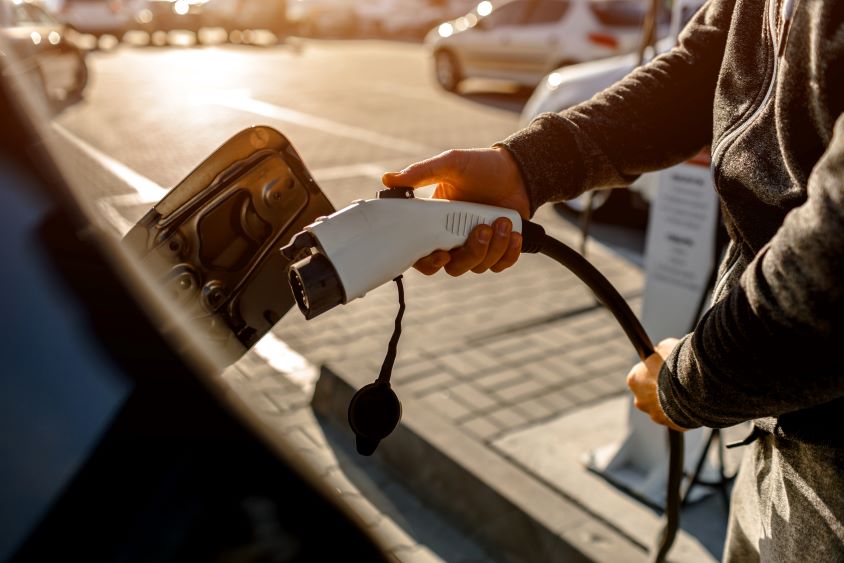 The cost of new vehicles is always a huge factor for fleet managers to consider. It can require capital investments worth thousands of pounds, which can have a serious impact on a business' cash flow in the short term.
This decision isn't one that can be ignored or put off, either. The government announced that the sale of new petrol and diesel cars will be banned from 2030 – so savvy commercial fleets are now looking to explore the world of electric and semi-electric vehicles. To help make this decision, we're sharing our insights that should help cover all bases when choosing which types of vehicles to buy or lease.
One popular question we see fleet managers ask themselves is whether to choose between electric or hybrid cars, so this article will help to identify the types of hybrid and electric car, shine a light on the pros and cons of these different models, and provide some insight around how best to make that crucial decision.
Types of hybrid and electric car
While the first hybrid car (the Prius in 1997) looked completely different to anything else on the roads, this isn't the case anymore. In fact, unlike their fully electric counterparts, you may not even realise you're looking at a hybrid when you see one.
Hybrid vehicles bridge the gap between traditional vehicles that are powered by petrol or diesel and those that are completely powered by electric energy by combining a typical engine with a battery-powered electric motor.
As operators look to incorporate electric vehicle models into their fleets, it's important to understand the range of options available in market. These include:
1. Parallel hybrids
This is the most common type, with an example being the Toyota Prius. It can be powered solely by the engine; solely by the motor; or using both together. Electricity is produced and stored when the brakes are applied.
2. Range extender
Like the BMW i3, the engine in these cars never drives the vehicle and is instead used to produce energy to recharge the batteries.
3. Plug-in hybrids
These cars can be charged while they are being driven, or by being plugged in at a designated charging point. The Mitsubishi Outlander is a good example.
You might also hear the terms 'strong' or 'mild', which simply refers to the amount of battery power available – strong hybrids can drive further than mild ones.
4. Fully electric cars
Full-electric cars require charging at compatible charging points every time they run flat, but have surprisingly low running costs once these have been established. An example is the SEAT Mii electric.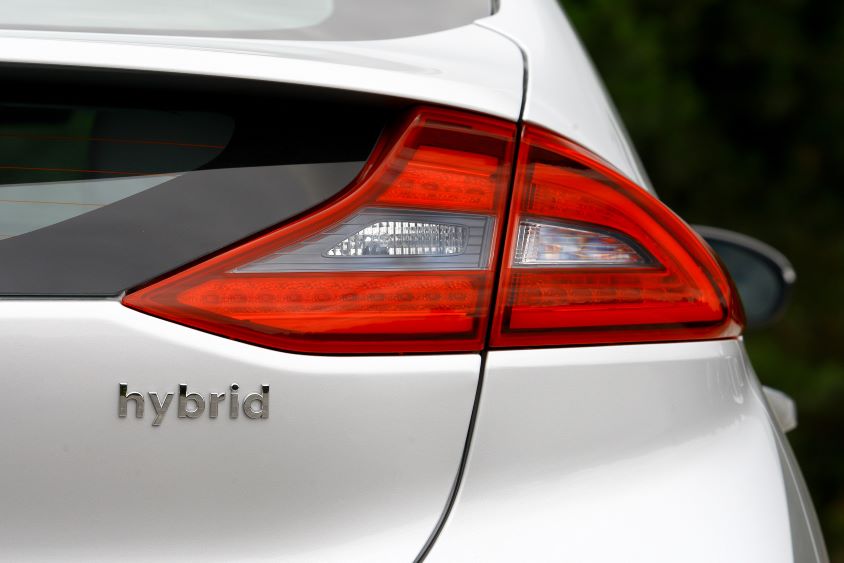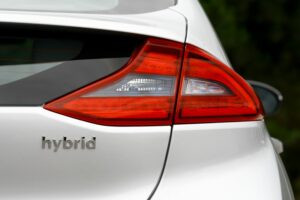 The key factors to consider
When choosing between electric and hybrid vehicles, consider the following.
Initial purchase cost
The initial purchase cost of any new vehicle is likely to be the most significant cost a business will incur during the vehicle's lifespan. As of 2021, the average cost of a full-electric car is around £44,000, which of all car types is likely to be the most expensive option in the market.
Hybrid cars are typically around £4,000 more expensive than their cheaper petrol equivalents, and still undercut fully electric vehicles by up to around £10,000 when comparing models like-for-like – making them the middle-market option in terms of listing price.
It's also important to consider the cost of charging points your fleet is likely to be facing. Different EVs require different types of charging stations, and a single charging point could cost up to £1500 – so nailing down charger compatibility is an important part of the buying process.
Running costs
Once you've purchased your electric or hybrid vehicle and established your charging requirements, it's time to think about running costs.
The cost of fuel is considerably more expensive than the cost of electricity when considered like-for-like. One mile of unleaded for a typical UK hatchback could cost a driver around 18p, whereas an equivalent cost for a similar size of fully electric vehicle is likely to be around 0.025p.
For an SME running a fleet of taxis, this significant cost saving could really rack up with the kind of mileage drivers are likely to be covering, which could exceed 30,000 miles per year. Hybrid vehicles are able to enjoy some of the cost-saving benefits associated with using electricity over fuel, coming in at around 30% cheaper per mile than fuel powered vehicles, but this can vary depending on the type of hybrid your fleet utilises.
One additional point to consider in terms of daily running costs is charging point availability. If your electric vehicles aren't getting access to an adequate network of charging stations while on long haul journeys, then it could increase the total duration of each trip and drive your overheads upward.
Just because you have an electric vehicle doesn't mean you can't continue to make great savings with a fuel card though. With the Shell Electric Vehicle Fuel Card, you can save 2p per kWh, and access over 7,500 nationwide charge points. You can even use it to pay for regular fuel, making the transition from fuel to electric even easier!
Environmental impact
There's no doubt that electric vehicles are the most environmentally friendly option for commercial fleets in the UK, but hybrid vehicles do also go a long way to reducing driver's fuel emissions.
From an ethical standpoint, having a fully electric fleet could position your business as eco-conscious to customers and prospective employees alike. If this shift is in fact inevitable, with the gradual phasing out of fuel-based vehicles rolling out, then it may be worth considering making the shift to a fully electric fleet sooner rather than later.
It's also worth considering whether being more environmentally friendly could actually be cheaper for your fleet. There's a good chance the UK government will introduce a carbon tax within the next twenty years, and that could see the cost per mile of running a hybrid vehicle increase. So, creating projections for the future that can factor into your business' cash flow forecast may also help you decide between which electric vehicle models to acquire.
Range anxiety
The opinions of your drivers could also be a factor worth taking into consideration. Range anxiety, for example, could prove to be an issue for some. With fully electric vehicle technology still feeling alien to some, hybrid alternatives could potentially give drivers reassurance, and confidence in their routes.
What's clear is that the adoption of hybrid and electric vehicles is on the radar of virtually every major fleet operator in the UK. According to Arval figures, 25 percent of UK fleets have already begun adopting hybrid cars, so now is a better time than ever to start asking these questions and learning more about the market.
How can Fuel Card Services help?
At Fuel Card Services, we specialise in helping businesses save money on their fuel costs. Electric technology may not be a fully viable option for all, and businesses can be making real cost savings today. With a fuel card from our range of branded cards, you could be making a real impact to your bottom line for every mile driven by your team.
Need help with the EV transition of your fleet? Take a look at our EV solutions; we've got a mix of options for paying for your EV charging, including a home charging solution and a range of EV Charge Cards.
Additionally, it's important that you're able to properly track your driver's routes, and plan routes efficiently. Our Tele-Gence technology can be used to empower your drivers with this information. Live traffic updates can notify them of long traffic queues, enabling them to steer clear, and you'll be given updates on their driving habits to understand whether they're burning unnecessary fuel.
Tele-Gence also syncs seamlessly with your fuel card account, making them the perfect pairing for keeping your fuel costs and consumption as low as possible. Get in touch today and see how we could help you.
back