East of England Ambulance Service NHS Trust receives fleet upgrade
Written by: Simon Pavey, Last updated:14th February 2022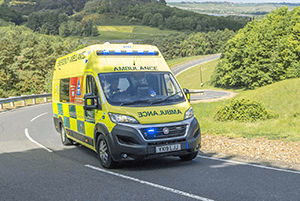 East of England Ambulance Service NHS Trust will benefit from a fleet of 12 new Fiat Ducato Ambulances.
The trust will employ the new vehicles across Cambridgeshire, Norfolk and Waveney in the coming months.
A major boost to the trust
This influx of new ambulances is the first stage in the delivery of more than 200 vehicles to bolster the trust's reach during the months ahead.
A further 43 will be delivered in the remainder of the year and an extra 171 will come into service by April 2020.
Paul Henry, deputy director of operations support, said: "We are delighted that these fantastic new vehicles are now being rolled out.
"We listened carefully to the views of our staff to ensure the vehicle will meet their needs, keep them comfortable during a shift and allow them to deliver even better care."
Each new vehicle comes complete with automatic self-loading stretchers as standard, while the models will be more eco-friendly and economically than the trust's existing fleet.
Overall, it is hoped the trust will save upwards of £3.3 million per year once all the new vehicles come into service.
Jenny Smith, general manager for Tele-Gence, commented: "It's great to see these new models replacing the trust's older fleet, which will bring much-needed cost savings and new facilities to help serve the public."
Your business can benefit from affordable telematics with no hidden start-up fees or long-term commitments. Find out how at www.tele-gence.com
back