Drivers may be risking safety on dark journeys
Written by: , Last updated:30th June 2023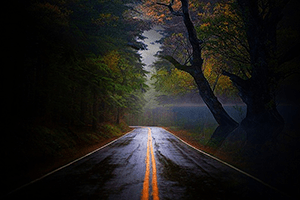 With the clocks having gone back, many people will now be making more of their car journeys in the dark.
However, new research shows some may be risking their own safety and that of other road users as they take these trips.
Driving when tired
According to a poll of 2,055 motorists by motorway services firm Roadchef, 32 per cent admitted to regularly getting behind the wheel in the dark while tired.
Furthermore, 42 per cent said they don't always stop for a break on longer night-time journeys, with 51 per cent instead relying on rolling the windows down to keep them alert and 45 per cent resorting to loud music.
Spokesperson for road safety charity Brake Samuel Nahk said: "As the nights get longer, it is vital that drivers are fully aware of the dangers of driving in the dark, and that driving tired can be fatal."
The RAC warns that reduced light in the autumn and winter can increase melatonin levels in human beings, resulting in more tiredness than usual. It recommends always stopping for a break should drowsiness occur and perhaps taking an advanced driving course to gain more experience of driving in the dark.
Jenny Smith, general manager for Tele-Gence, commented: "Evening and night-time trips may be unavoidable if you're driving for business, but it's essential to keep safety at the top of the agenda. If you feel tired, always stop to recharge your batteries. It's as simple as that."
Your business can benefit from affordable telematics with no hidden start-up fees or long-term commitments. Find out how at www.tele-gence.com
back