Connected vehicles 'to help enhance road safety'
Written by: Simon Pavey, Last updated:14th February 2022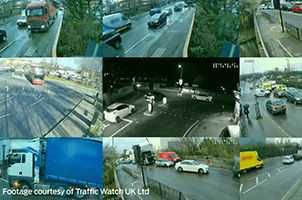 Connected vehicles 'to help enhance road safety' – Ford has unveiled new analysis that highlights the potential insights into traffic makeup that could help to make roads safer for all in the years ahead.
Using a combination of connected vehicle technology, traffic signal data and road safety incident data, Ford has been able to build up a picture of road traffic danger zones.
Connected vehicles highlight traffic dangers
The insights are based on a two-year study, which was carried out in partnership with Traffic Watch UK, and could now help to provide clear indications for how local authorities and planners could create safer junctions in future.
Amanda Wickens, managing director at Traffic Watch UK, commented: "It is probably no coincidence that where Ford's analysis identified harsh braking and steering, we also found evidence of traffic light offences and obscured road signs.
"Without a doubt, there is a real opportunity for intelligent connected technology and vehicle data analysis to help reduce the occurrence of road incidents in the future."
Relatively minor improvements to the way junctions are set out, signage is positioned or how drivers respond to dangers in the road could all have a positive cumulative impact on road safety.
Bringing together new data insights from connected vehicles and combining this with other sources of transport data will be crucial to safeguarding lives in the years to come.
Jenny Smith, general manager for Tele-Gence, commented: "Connected vehicle technology helps to shed light on danger zones across the road network. Greater uptake of these systems in the future could provide a welcome boost to safety for all."
Your business can benefit from affordable telematics with no hidden start-up fees or long-term commitments. Find out how at www.tele-gence.com
back