Client connections help to set us apart
Written by: Fuel Card Services, Last updated:11th August 2020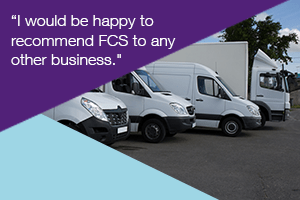 Building lasting and supportive relationships helps our account managers to deliver the best for their clients.
This is precisely what we've seen happen over the years and it's always fantastic when customers get in touch to say how much they appreciate our team's efforts.
Creating powerful client connections
Gavin Wilson, director at EYB Oil Solutions, recently did just that. He contacted us directly to recognise the efforts of his Fuel Card Services' account manager, Stuart Adams .
He said: "I've been speaking to various fuel card providers, who were unable to provide the services I wanted, but after speaking with Stuart Adams I found exactly what I required.
"I've never had anyone meet my requirements before the way that Stuart and Fuel Card Services have, I would be happy to recommend FCS to any other business."
Overall, Gavin hopes to make his own team's lives easier through the accounting benefits of working with a fuel card provider – most notably in helping to separate VAT with HMRC-approved invoices.
EYB Oil Solutions is based in Hull and operates a mixed fleet of five cars, vans and heavy goods vehicles. The company has a monthly spend of approximately £700 on diesel fuel and makes use of the BP fuel card.
Ellie Baker, brand manager at Fuel Card Services, comments: "To have made such a positive impression in such a short space of time is testament to the excellent work of Stuart. It's endorsements like these that make us all proud to be members of the FCS team."
back