Britain's van drivers leading drive for a healthier lifestyle
Written by: Simon Pavey, Last updated:2nd September 2021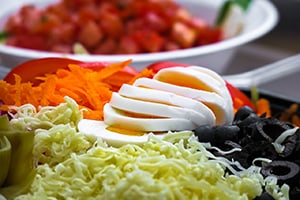 We've all heard the stereotypes bandied around concerning van drivers, including the idea that they're more likely to have a sausage roll in their hand than a piece of fruit.
However, new research has shown just how inaccurate those preconceptions might be – and that Britain's van drivers could actually be at the forefront when it comes to adopting healthier lifestyles.
Swapping fatty snacks for low-fat lunches
A poll carried out on more than 1,100 UK van drivers by Vauxhall Motors and On The Tools found a lot of people who drive for long periods of time are treating their health as more of a concern than they did in the past.
Indeed, 34 per cent of respondents said they have been ditching greasy, fatty lunches in favour of cooking low-fat options in advance to take to work with them, with 19 per cent also trying meat-free meals.
Furthermore, 37 per cent reported exercising at least once a week in order to counteract the negative effects that sitting behind the wheel for long periods of time could have.
Research has previously shown these dangers may include high blood pressure, raised blood sugar and greater fat storage around the waist, all of which can lead to heart disease, diabetes and stroke.
Vauxhall Motors spokesperson Patrick Fourniol said: "Van drivers often spend a lot of time at the wheel which can make it trickier to prioritise healthy eating and exercise, but our research shows many are making it a priority."
This study also appears to demonstrate a strengthening of trends seen in research by Volkswagen in 2018, when one in seven van drivers reported making their own packed lunches and one in ten reported trying to eat more fruit, vegetables and salad while on the road.
Ellie Baker, brand manager at Fuel Card Services, comments: "We're really pleased to see van drivers leading the charge when it comes to making the nation healthier. It seems we could all take a leaf out of their book and implement some changes this January."
back