Avoid the stress of the Christmas getaway this year
Written by: Simon Pavey, Last updated:14th February 2022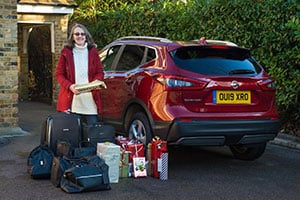 Christmas comes but once a year, and with it is the traditional Christmas getaway, with roads up and down the country becoming chock full of motorists making their way to festive functions and family gatherings.
That said, while Christmas and New Year is a time of joy, spare a thought for the millions of beleaguered drivers who feel the stress of long journeys at this time of year.
Getting flustered with Christmas packing
According to a poll of more than 1,000 UK motorists by Nissan, 36 per cent of drivers will be visiting ten or more people over the holiday period and that can cause anxiety about how best to fit gifts, luggage and essentials into their car.
A lack of boot space was shown to be the number one concern for 68 per cent of respondents, while 20 per cent stated they've considered the use of a trailer to ensure they have enough room to travel with everything they need.
Overall, 65 per cent of motorists said they get stressed about packing for the Christmas getaway, while a quarter (26 per cent) said they would rather 'cancel Christmas altogether' than face the dilemma of how to pack the car.
How to avoid a Christmas headache
"Christmas preparation can be stressful. And often the need to pack up the car to visit family can only makes things worse," commented travel and packing expert Kate Simon.
"Packing for the family road-trip, where lifelong memories will be made, should be a fun activity for all to get involved in, so I was thrilled to partner with Nissan and showcase how one of the most popular family cars can help alleviate the stress this Christmas."
Here are Kate's top tips on packing for a Christmas getaway:
Do a trial run: Carry out trial runs of packing your vehicle before the day you have to leave. This will ensure you know precisely where everything goes and any headaches around fitting bulky items have already been dealt with when it comes time to travel for real.
Maximise space in your luggage: Fold up and roll your clothes before packing them in cases. By minimising the space items take up in your luggage, you can limit the number of cases that need to be loaded in your vehicle.
Look for hidden spaces: Every car is different, but most will have small nooks and crannies where suitably-sized items can be stowed. This can help to free up space for larger items.
Pack in priority order: Think about the things that will be most essential when you arrive at your destination and put these in last. Doing so will ensure they are easily accessible on arrival, meaning there's no rooting around for gifts or cases when all you want to do is say hello.
Ellie Baker, brand manager at Fuel Card Services, comments: "Taking the stress out of packing for a festive getaway is sometimes easier said than done. However, with a little preparation and forethought, there are ways around the problem, as these handy tips have shown."
back