All the winners revealed at this year's BusinessCar Awards 2019
Written by: Simon Pavey, Last updated:11th August 2020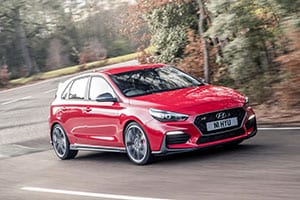 Winners have been announced for the BusinessCar Awards 2019. Now in its third year, the awards recognise some of the biggest names in the automotive sector for their achievements and contribution to the industry during the past 12 months.
The winners were decided by an expert panel of judges made up of respected industry professionals including well-known road testers, fleet managers and representatives from industry bodies.
Where was the ceremony held?
An enthralling evening of entertainment and recognition for the standout performers of the last 12 months in a range of categories was held on October 30th at London's Hilton Tower Bridge.
The ceremony was hosted by comedian Simon Evans and this year's awards were sponsored by the AA, Europcar Mobility Group, the Grosvenor Group, Lex Autolease and Ogilvie Fleet.
Who were this year's winners?
Here is every one of this year's winners at the BusinessCar Awards 2019:
Manufacturer awards:
Best electric car: Kia E-Niro
Best small car: Ford Fiesta
Best lower-medium car: Ford Focus
Best upper-medium car: Peugeot 508
Best value car: Skoda Fabia
Driver's choice: Hyundai i30 N
Best compact premium car: Mercedes-Benz A-Class
Best premium car: BMW 3 Series
Best compact SUV: Volkswagen T-Cross
Best medium SUV: Volvo XC40
Best large SUV: SEAT Tarraco
Best executive car: Mercedes-Benz E-Class
Most improved manufacturer of the year: Hyundai Motor UK
Green fleet manufacturer of the year: Toyota & Lexus Fleet
Supplier awards:
Leasing company of the year – under 25,000 vehicles: Grosvenor Leasing
Leasing company of the year – over 25,000 vehicles: Free2Move Lease
Customer service award: Ogilvy Fleet
Green initiative award: Ubeeqo
Remarketing award: Aston Barclay
Rental company of the year: Europcar Mobility Group
Risk management award: RED Fleet Driver Training
Service, maintenance and repair award: ARI
Fleet retailer of the year: Vindis Group
Fleet Supplier of the year: VisionTrack
Fleet awards:
Fleet manager of the year: Peter Jardine (Countrywide)
Green fleet of the year: Active Building Centre
Business Car Techies awards:
Innovation award: TMC
Best software product: Chevin Fleet Solutions
Best telematics product: VisionTrack
Safety award: VisionTrack
Editor's choice: The AA
Reader-voted awards:
Manufacturer of the year: Volvo UK
New company car of the year: BMW 3 Series
What it means to win
After being named a winner in two categories at this year's BusinessCar Awards, Michael Stewart, director of fleet at Hyundai Motor UK, stated: "To win the Most Improved Manufacturer is testament to the hard work of the Hyundai Fleet team and to our dealer partners, and is proof that the improvements we have made to our infrastructure really are starting to pay dividends.
"I strongly believe that Hyundai now has the necessary framework in place to further build upon its success in the fleet sector. It's also fantastic to see the i30 N recognised as a worthy fleet vehicle for the enthusiastic driver – they really are a lot of fun to drive!"
The brand was quick to react to the positive news, highlighting the fact that recognition at the BusinessCar Awards is seen within automotive circles as representing "the pinnacle of fleet achievement".
Meanwhile, T-Cross product manager at Volkswagen UK Claire Haynes commented: "The T-Cross is an exemplary all-rounder, with style, practicality, capability and efficiency all at the forefront of its armoury. It remains true to its mantra: 'I am more than one thing'.
"Recognition of its talents and the versatility of its qualities by publications like BusinessCar only goes to show how accurate this strap line is, and how suitable it is for everyone – whether it's company car drivers, young families, city dwellers or outdoor adventurers."
BusinessCar is among the most widely circulated publications in the UK fleet sector, with a readership targeting approximately 19,000 UK fleet decision-makers. It means that, every year, winners of the annual BusinessCar Awards truly are the standout performers as viewed by the UK's fleet operators.
Ellie Baker, brand manager at Fuel Card Services, comments: "Every one of this year's winners should be proud of their achievement; it represents industry-wide recognition for a job well done and for the continued support to customers and appeal of their brand in what is a highly competitive marketplace."
back