Volvo extends plug-in hybrid option to all models
Written by: Fuel Card Services, Last updated:15th February 2022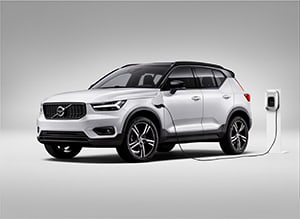 Volvo has become the first automotive manufacturer to extend a plug-in hybrid option to all models across its vehicle range.
The marque is offering its new T5 Twin Engine petrol-electric hybrid powertrain across the board.
Combining power, efficiency and more choice
The powertrain is capable of delivering 262 bhp through its combined 180 bhp three-cylinder 1.5-litre petrol engine and 82 bhp electric motor.
It makes its debut in the new XC40, but buyers will be able to add this power option to every Volvo model from February next year.
Kristian Elvefors, Volvo Car UK managing director, commented: "[We are] demonstrating our commitment to giving all our customers the best possible choice when it comes to powertrains that are both better for the environment and also practical for their lifestyles and driving requirements."
The hybrid powertrain makes use of a lithium-ion battery with 10.7kWh capacity, which provides an all-electric driving range of up to 28.6 miles.
At the same time, preliminary WLTP data highlights it is capable of producing CO2 emissions from just 38 g/km and combined fuel economy of up to 141.1 mpg.
The benefit-in-kind tax rate for vehicles fitted with the new T5 Twin Engine will be just 16 per cent.
Ellie Baker, brand manager at Fuel Card Services, comments: "Fleets keen to reduce their overall CO2 output might like to consider new Volvos in the coming years. This marks the first step towards all manufacturers offering full hybrid ranges in the near future."
back