Volkswagen welcomes 1,400 new apprentices
Written by: Simon Pavey, Last updated:14th February 2022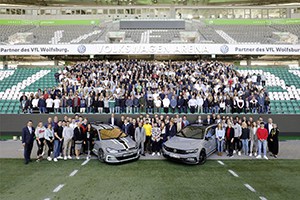 Volkswagen has taken on 1,400 new apprentices on dual vocational programmes.
The manufacturer is helping hundreds of young people take their first steps into an automotive career.
Investing in the future of automotive
Dual courses will see these enthusiastic youngsters learn about all aspects of vehicle manufacturing, from the latest design and processing techniques to mechatronics, mechanics and much more.
Overall, 30 per cent of the new entrants will earn a bachelor's degree during their time on the programme, setting them up handsomely for a lasting and fulfilling career in the sector.
Nineteen-year-old training vocation apprentice Lena Hilbl commented: "About three years ago, I went to an open day at the Volkswagen plant in Wolfsburg to take a look at the various training vocations.
"As I walked through the paint shop and saw the brightly coloured bonnets, I was sure that I wanted to work here."
The move also showcases Volkswagen's determination to help more women into the industry, with 28 per cent of the 1,400 new starters being young women.
Jenny Smith, general manager for Tele-Gence, commented: "It's great to see one of the biggest names in the automotive sector investing in the next generation of skilled professionals who are enthusiastic about working in the exciting field of vehicular design."
Your business can benefit from affordable telematics with no hidden start-up fees or long-term commitments. Find out how at www.tele-gence.com
back