Volkswagen unveils new canine Caddy conversion
Written by: Fuel Card Services, Last updated:11th August 2020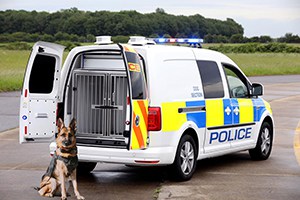 Volkswagen Commercial Vehicles has unveiled its newest Caddy conversion – a model fit for the nation's amazing police dogs.
The conversion has been developed in partnership with the manufacturer's Approved Blue Light Converter, PressFab Evo.
All the canine comforts included
The new Caddy conversion features an in-built kennel with temperature controls and ventilation, as well as lights, siren and police livery.
It has been built in line with DEFRA/RSPCA animal welfare specifications and uses a Volkswagen Caddy in Highline trim as the base vehicle.
Steven Cowell, technical sales manager at Volkswagen Commercial Vehicles, said: "Our latest blue light conversion is a fully-operational dog van based on our Volkswagen Caddy.
"We're delighted by the finished product after months of hard work by the team in partnership with PressFab Evo."
He went on to add that police forces up and down the country are in need of "versatile and reliable" vehicles, and that's precisely what the Caddy is able to deliver.
It is the latest design under Volkswagen's blue light demo fleet for police forces and was debuted at the NAPFM Emergency Fleet Exhibition last week.
Jenny Smith, general manager for Tele-Gence, commented: "The new Caddy conversion will be a welcome addition to police fleets up and down the country. It's been designed from the ground up to meet the needs of these tireless and special canine constables."
Your business can benefit from affordable telematics with no hidden start-up fees or long-term commitments. Find out how at www.tele-gence.com
back