VCV deliveries fall in 2019, but Crafter proves more popular than ever
Written by: Simon Pavey, Last updated:11th August 2020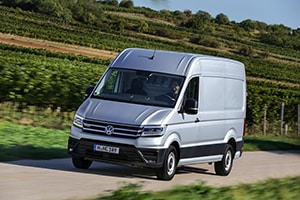 Global deliveries of light commercial vehicles (LCVs) fell for Volkswagen Commercial Vehicles (VCV) in 2019.
At the same time, the company's Crafter model saw a significant spike in demand.
A year of mixed results
Overall, the brand witnessed a 1.6 per cent decline in vehicle deliveries last year, with a total of 499,700 units shipped to buyers around the world.
It marked a significant decline in popularity for some of the firm's most iconic models, with the T Series (down 4.8 per cent), Amarok (down 10.4 per cent) and Caddy (down 1.8 per cent) all witnessing a drop in demand.
In contrast, the standout performer of 2019 for VCV was the ever-popular Crafter, which saw a 21.7 per cent upturn in its fortunes and a total of 70,974 vehicles shipped worldwide.
Overall, the brand will hope this stellar performance can now help push a reversal of fortunes for the rest of its vehicle line-up.
Indeed, major economic crises in South America, Australia and the Middle East were cited as the main driver of last year's downturn. However, with a new year now underway, VCV undoubtedly hopes its performance in Europe – up by 8.8 per cent – will serve as a catalyst to drive growth elsewhere.
Ellie Baker, brand manager at Fuel Card Services, comments: "It's great to see the Crafter continuing to capture the imagination of buyers across the LCV space, but another year like 2019 is surely not what the company will be hoping to see in 2020."
back