Skoda's expert conversion supports UK police forces
Written by: Fuel Card Services, Last updated:11th August 2020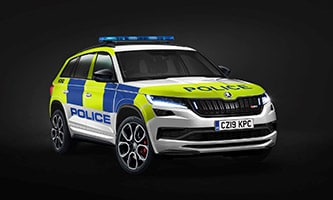 Police forces across the UK will soon benefit from a versatile new option for their fleets, following the release of a new Skoda conversion.
Based on the Kodiaq vRS, a new police-specific model conversion has been developed by the manufacturer.
Imposing yet functional design
This latest Skoda offering has been designed to deliver outstanding performance and versatility to meet the needs of officers in a host of circumstances.
It features increased interior space and payload capabilities, as well as powerful LED signal lights built into the front screen, grille, tailgate and number plate – all complemented by a 100-amp three tone siren.
Designed to be conspicuous to the public, the design is bold and striking, with the model coming with dual exhaust pipes, vRS sports bumpers and trademark red brake calipers.
Inside, the driver benefits from a 10.25-inch digital Virtual Cockpit display and SmartLink+ for seamless smartphone integration. Meanwhile, Alcantara-trimmed sports seats with memory function and an emergency services communications system built into the dashboard are also included.
Skoda head of fleet Henry Williams commented: "The high-performance credentials of the Kodiaq vRS make it a powerful addition to the pursuit vehicle line-up. It offers power, precision drive and good visibility to other drivers on the road."
Jenny Smith, general manager for Tele-Gence, commented: "This new Skoda conversion will be hot property for police forces up and down the country. It promises to make a big impact with officers and members of the public alike."
Your business can benefit from affordable telematics with no hidden start-up fees or long-term commitments. Find out how at www.tele-gence.com
back