Mercedes-Benz remains number one
Written by: Fuel Card Services, Last updated:11th August 2020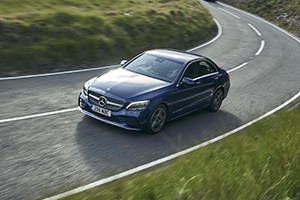 Mercedes-Benz has retained its position as number one in the premium segment despite ongoing model changes and a challenging start to the year.
The first half of 2019 saw 196,230 cars delivered by Mercedes-Benz – a decrease in unit sales primarily due to ongoing model changes for SUVs, which is the brand's segment with the largest volume.
Maintaining leadership despite challenges
Sales momentum in the second quarter – when the brand sold 573,856 cars – was primarily due to the new compact-car models. These include the new A-Class Saloon, sold worldwide, and the new B-Class and new CLA Coupe, which are available in Europe.
Despite this -4.6 per cent drop in sales, the brand maintained its market leadership in the premium segment during the first half of 2019 in markets including the UK, Germany, France, Switzerland, Portugal, Sweden, Denmark, Finland, Czech Republic, Luxembourg, Greece, South Korea, Japan, Australia and Canada.
Britta Seeger, member of the board of management of Daimler AG responsible for Mercedes-Benz Cars marketing and sales, commented: "After a challenging first half of the year, Mercedes-Benz continues to be at the top of the premium segment. We are particularly pleased with the great popularity of the new compact models."
Ms Seeger underlined two real customer favourites are in showrooms in July: the new GLC and the GLC Coupe. The GLC has been the highest-volume model in the brand's SUV portfolio for several years, and comes with the latest intelligent driver assistance systems, as well as MBUX as standard.
Ellie Baker, brand manager at Fuel Card Services, comments: "Despite a challenging start to the year for Mercedes-Benz, it's encouraging to see the brand retain its number one position within the premium segment, no doubt bolstered by the popularity of its compact models."
back