Major fleet overhaul for ATS Euromaster courtesy of Volkswagen
Written by: Fuel Card Services, Last updated:11th August 2020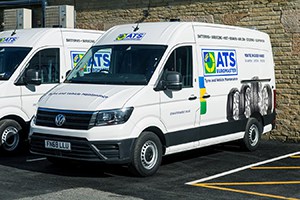 A new trial is underway for ATS Euromaster, with the company testing a range of Crafter vans in preparation for the overhaul of its entire fleet.
The operator has taken charge of six new Crafter vans from Volkswagen Commercial Vehicles.
A major overhaul for ATS
Volkswagen is set to become the company's new commercial fleet partner should the trial prove successful for these new models.
In total, ATS could replace its existing fleet of more than 200 vehicles with new Crafter models by early 2020.
Mark Lynch of ATS Euromaster commented: "Our values of a customer-first approach, expertise and honesty align perfectly with the product and aftersales offering from Volkswagen Commercial Vehicles. We're excited to see how the Crafter performs as we prepare for a full fleet overhaul soon."
He added the purpose of the company's mobile fleet – of which these new Crafters will form part – is to keep its wider UK fleet of vehicles on the move.
Mr Lynch noted it is imperative that its vehicles are reliable and flexible, given the need to keep their network of more than 270 service centres up and running every day.
Indeed, the use of the new Crafter models will better enable the business to fix and maintain its fleet during non-working hours or while vehicles are sitting idle between jobs.
Ellie Baker, brand manager at Fuel Card Services, comments: "The Crafter is a versatile and flexible van that offers everything ATS will need to support its wider UK fleet.It's great news for both parties."
back