Kia launches new keyless safety system
Written by: Fuel Card Services, Last updated:11th August 2020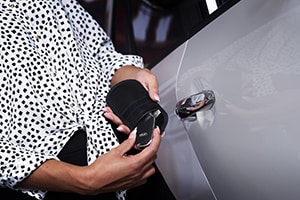 Kia Motors (UK) has announced the launch of a new safety system designed to reduce the likelihood of Kia owners being targeted by car thieves.
The manufacturer's new KiaSafe case ensures thieves using relay attack devices will have no luck when trying to boost the signal from the keys to the car.
Protecting the signal at its source
Including an in-built Faraday cage, the new KiaSafe case blocks all signals for keyless entry to the vehicle and therefore renders signal boosters inoperable.
The case is now available for all keyless Kia vehicles, while the firm's engineers continue to work on new technologies to further improve vehicle security for all.
David Hart, customer experience manager at Kia Motors UK, commented: "The security of our customers' vehicles comes second only to safety and we are as concerned about the hacking of keyless entry systems as customers, the police and the insurance industry."
Meanwhile, Mr Hart advised owners to continue to use other safety measures to help reduce the chances of them being targeted by car thieves, including not leaving keyless entry fobs in the front door lock of their home or close to windows.
Jenny Smith, general manager for Tele-Gence, commented: "The rising number of car thefts reported up and down the country should be a concern for fleet operators. That said, measures like this from Kia will help to reduce the chances of thieves successfully stealing cars."
Your business can benefit from affordable telematics with no hidden start-up fees or long-term commitments. Find out how at www.tele-gence.com
back